Institution: University of Cambridge
Country: United Kingdom
City (Metropolitan Area): Cambridge
Applicant Eligible Countries: Europe, United Kingdom
Type of Opportunity: Scholarships
Study Levels: PhD
Subjects: Medicine
Eligibility: Must be UK national or EU student who meets UK residency requirements
Duration: 3 years
Academic Year: January 2018 - January 2021
Application Deadline: July 26, 2017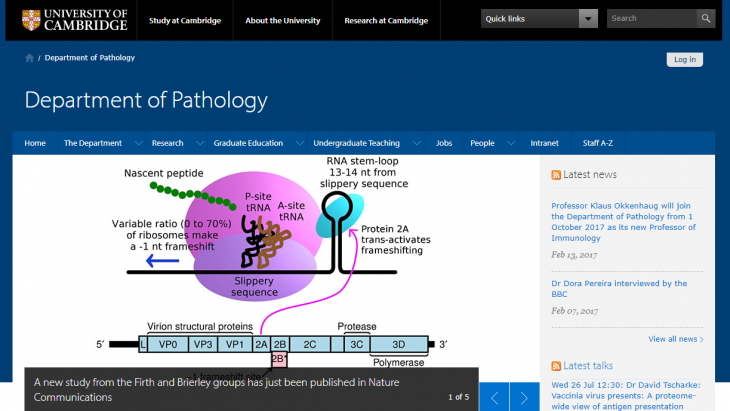 The laboratory of Dr. Stephen Graham at the University of Cambridge seeks applicants for a three-year PhD studentship in the Department of Pathology, beginning January 2018. The successful candidate will join Dr. Graham's research team as it investigates how viruses modify cellular membranes during infection. The team's prior work has already identified several new interactions between herpesvirus proteins and cellular factors that affect host-cell membrane composition and the movement of cellular membrane proteins. The new project seeks to define the molecular basis of these interactions and how they contribute to virus infection. As a member of the research team, you will help combine structural, biochemical, and cell biology techniques, including: atomic-resolution structures of the herpesvirus proteins alone and in complexes with their cellular partners, biophysics to define the molecular details of such protein:protein interactions, fluorescence microscopy to localize these complexes within cells, and production of recombinant viruses to the function of these proteins during virus infection. As a successful candidate, you will join a multidisciplinary research team that is striving to provide foundational science for a new generation of therapeutic agents.
Applicants should possess a first or upper second class degree in biochemistry, cell biology, or biological/medical science. Additionally, they must possess outstanding written and oral communication skills. You must be a highly motivated individual capable of working with a team. Funding for the position will cover the student's university fees and provide a stipend at the current Research Council rate. Applicants must be UK nationals or EU students who meet UK residency requirements. Additionally, by the time you are interviewed, you must have demonstrated competency in the English language.
Applications are due 26 July 2017.
To learn more and apply, click here.
---
Subscribe to our mailing list
In order to receive the latest updates of study and scholarship opportunities worldwide.
---
---