Institution: London School of Economics (LSE)
Country: United Kingdom
City (Metropolitan Area): London
Applicant Eligible Countries: Worldwide
Type of Opportunity: Short-term Courses
Study Levels: Non Degree
Subjects: Marketing
Start Date: June 4, 2017
End Date: June 8, 2017
Price: £5,795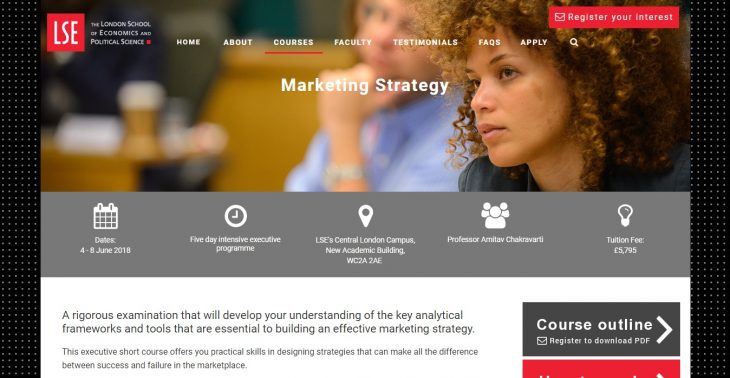 The London School of Economics has announced an intensive, five-day course in marketing strategy designed for experienced marketing managers or business executives who want to develop a greater understanding of marketing processes. This short course will offer practical skills for taking your marketing campaign to the next level. In just five days, you will learn the foundational principals behind many top-notch marketing MBA programs, and the class will change the way you think about marketing.
This executive program possesses many benefits, both for the professionals who attend and the businesses they represent. Attendees will learn about how customers make decisions and ways to capture those decisions through statistical modeling. You will study how to conduct Customer Lifetime Value analyses – an important tool for measuring the value of customers. The course also offers an opportunity to better understand methods for setting price and pricing anomalies. Of course, the class isn't all theory and abstractions. Course participants are given the opportunity to practice practical skills like quantitative and qualitative methods of marketing research; creating frameworks for effective segmenting, targeting, and positioning strategies; launching new products and/or services; distributing a product and/or service; and effectively promoting a product, service, and/or idea.
By the end of this five-day, rigorous course of study at the renown London School of Economics, participants will leave equipped with an analytical toolkit capable of delivering success across various industries. The program aims to separate popular, but ineffective, marketing practices from ones which are grounded in science and possess a proven track-record of achievement. Marketing professionals are increasingly expected to demonstrate the effectiveness of their strategies, and this class will provide you with the skills and vocabulary necessary to accomplish your goals.
The program is not intended for entry-level professionals but is instead tailored for the needs of experienced marketing managers or executives. Those who stand to benefit the most from this five-day course include executives assuming new marketing responsibilities, managers already working in marketing but lacking postgraduate education in the subject, and executives across all sectors who want a better understanding of this important arena. The tuition fee of £5,795 includes all course materials, daily lunches, coffee breaks, two complimentary networking events, and full office support. At the end of the program, you will be awarded a certificate of completion by the London School of Economics.
To learn more and apply, click here.
---
Subscribe to our mailing list
In order to receive the latest updates of study and scholarship opportunities worldwide.
---
---