The United States Student Visa Process
If you are interested in entering the United States for study and have citizenship in another country, you must first obtain a visa. This guide applies to students who are citizens of countries that require visas for entry into the United States as well as for citizens of Visa Waiver Program countries. You can either receive a nonimmigrant visa for a temporary stay or an immigrant visa for permanent residence.
Who is Required to Obtain a Visa?
Any student who plans on studying in the United States must obtain a visa. The specific type of visa will depend on the chosen course of study, as well as the intended destination school. The two primary types of student visas are M and F type visas.
You will require an F visa if you are attending a:
College
High school
Private elementary school
Conservatory
Seminary
Another academic program, like a language training course
Vocational or other recognized nonacademic program (may alternatively require an M visa)
A student may not enter the United States and study on the visa waiver program or with visitor visas. You must have an F or M student visa. You can only study in the United States without one of these visas if you are pursuing recreational study as part of a tourist trip. Any coursework that will lead to a degree or certificate is not allowed on a visitor visa or visa waiver entry, even if it is pursued over a short period of time.
How to Receive a Visa Invitation
The school at which you intend to study should be able to send you a visa invitation. This will initiate the process, as your school should be SEVP-approved (Student and Exchange Visitor Program). Once the school accepts your enrollment, you can register for the Student and Exchange Visitor System and pay the 1-901 fee. Your school will then issue you a Form I-20.
Upon receipt of this form, you can apply at your local embassy or consulate for either an F or M visa. You must have the Form I-20 in your possession when you apply and attend your visa interview. Keep in mind that anyone you plan on taking with you, like a spouse or child, must also complete this same process.
Application Instructions
There are several steps involved in applying for a visa. The exact order will vary depending on your consulate, so make sure you contact them first to get information.
Online Visa Application
Begin by completing the online visa application. There are two steps. You must first complete the nonimmigrant visa application, Form DS-160, available online. Make sure you print the confirmation page and bring it with you to your interview. You will also need to upload a photo in an acceptable format.
Interviews
Next, you must schedule an interview. These are required for applicants aged 13 to 80 years old. Schedule an appointment at the consulate or embassy in the country in which you live. Your wait time may vary depending on visa category, season, and location, so be sure to schedule your appointment early. It can take up to 300 calendar days.
For New Students
If you are applying as a new student, you can receive a visa up to 120 days before the intended start date for your program of study. However, you cannot enter the country on your visa unless it is thirty days or less until your start date.
For Continuing Students
As a continuing student, you can apply for and receive a visa at any time. However, you must be currently enrolled at a SEVP-approved institution. You may enter any time before classes begin.
Fees
You will be required to pay the non-refundable application fee for your visa before your interview. You may also have to pay an issuance fee, which varies depending on your nationality.
Documentation Required
You will need to collect several mandatory documents before beginning your visa interview. These include:
A passport valid for travel to the United States, with a six-month window beyond your intended period of stay in the country
A nonimmigrant visa application, Form DS-160 (confirmation page required)
Payment receipt of the application fee
Photo (if it fails to upload while completing the online Form DS-160)
Certificate of Eligibility for Nonimmigrant (F-1) Student Status – this will be sent to you by your school once they have received your information and uploaded it into the SEVIS database
Additional Documentation Sometimes Needed
You may be required to submit additional paperwork at the behest of the consular officer. You might need to submit:
Evidence of academic preparation, such as diplomas, degrees, transcripts, or certificates
Statement of intent to depart the United States upon completion of course of study
Description of how you will finance all living, travel, and educational expenses
Attending the Visa Interview
At the visa interview, a consular officer will determine whether you are eligible to receive a student visa. You will also have ink-free fingerprint scans taken during the interview.
The consular may decide that you need more information or processing for your application to be approved. If and when the visa is approved, you may be required to submit a visa issuance fee and also make plans for the return of all paperwork to you. Do not make travel plans until you have been issued a visa, as there is no guarantee.
Entrance into the United States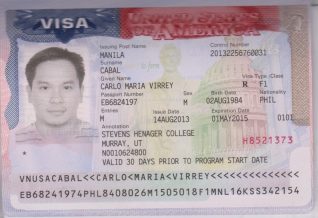 A visa does not give a guarantee of automatic entry into the United States but merely allows a foreign citizen to travel to a port of entry and request permission. Only the Department of Homeland Security and U.S. Customs and Border Protection authorities have the ability to allow or deny entry to the United States.
Once you present your documentation, including your visa, passport, and Form I-20 at your port of entry, a CBP official will decide whether you may enter the United States. You will receive either an admissions stamp or paper Form I-94 upon this decision.
How to Extend Your Stay in the US
You must depart the United States within 60 days of the program end date listed on your Form I-20. This includes any pre-authorized practical training.
Students may request to receive an extension through the U.S. Citizenship and Immigration Services website. If you do not depart the Untied States in a timely manner, you will become out of status and will have your visa automatically voided. This may eliminate your ability to enter into the United States in the future.
Change of Status
While you are in the United States, if your plans change, you may request a change in your nonimmigrant status to another category. This is commonly pursued by individuals who are married or receive an offer of employment.
You can visit the Change My Nonimmigrant Status on the US Citizenship and Immigration Services website to find out more about receiving a change of status. While you will not need to apply for a new status, you must apply for a new visa if you depart the United States.


Source: U.S. State Department