Institution: Harvard Global Health Institute, Harvard T.H. Chan School of Public Health
Country: United States
City (Metropolitan Area): Boston -- MA
Type of Opportunity: Fellowships
Subjects: Leadership
Eligibility: At least 15 years of professional experience, including proven leadership experience.
Duration: 6 months
Applications Open: January 15, 2020
Application Deadline: March 15, 2020
Regular Applications Decision Notifications: May 1, 2020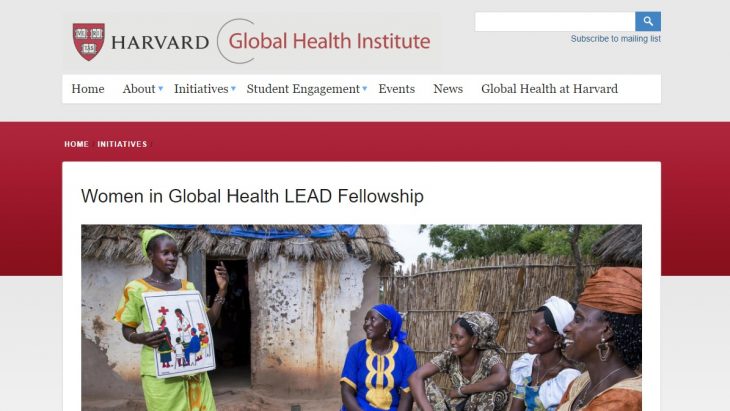 Applications are now open for the Women in Global Health LEAD Fellowship. This fellowship recognizes that women are agents of change when they are engaged in leadership positions. They are able to implement policies that support women, children, families, communities, and entire nations, yet still remain underrepresented in leadership areas in health, medicine, and life sciences.
The Harvard Global Health Institute and the Women and Health Initiatives at the Harvard T.H. Chan School of Public Health created a fellowship to target rising female leaders from low- and middle-income countries. Selected candidates will engage in a four-month residence at Harvard as they undertake and then execute an eighteen-month professional development plant. Fellows may take classes in any of Harvard's schools and will later be invited to share their experiences upon their return to their places of employment.
Candidates will also be involved in mentoring programs, which are focused on each candidate's specific needs and potential career paths. Women from all regions and disciplines are encouraged to apply. Successful applicants will be able to articulate a clear vision for personal growth and change. They will participate in leadership training, speaking and networking opportunities, and independent project work in addition to their mentoring experiences.
As a result of this project, candidates will be expected to execute their personal growth and leadership plans back in their home countries. Candidates will produce training events for peers as well as detailed progress reports, and will later have the opportunity to mentor a future LEAD fellow.
Applicants for this fellowship must work full-time in global health. Each candidate should have at least 15 years of professional experience, including proven leadership experience. Experience conducted as a university student does not count. Candidates are expected to reside in the Boston/Cambridge area during the semester at Harvard, during which time they should be free of any work-related commitments. They need to have the full support of their employers, including a person who is willing to sign on as an internal mentor.
To apply, each candidate must nominate him or herself by submitting an application to the fellowship. There are no academic or age prerequisites. Fellows must not have participated in a full-time fellowship that lasted four months or longer during the years at least two years prior to their arrival.
Fellows will be in residence at Harvard for four months (one academic semester) between August 2020 and December 2020. Candidates must devote themselves full-time to the work outlined in their proposals. In return, the program provides for housing in the Boston area, a roundtrip, economy class ticket to Harvard, office space, a monthly stipend, and full access to all libraries and resources at Harvard during the fellowship period. Fellows are responsible for arranging their own health insurance.
All applications must be submitted by March 15, 2020, although proposals will be reviewed in a rolling format until that point. All candidates will be notified of their application status the week of May 1, 2020.
To learn more and apply, click here.
---
Subscribe to our mailing list
In order to receive the latest updates of study and scholarship opportunities worldwide.
---
---