Institution: American Society for Legal History
Country: United States
Applicant Eligible Countries: Worldwide
Type of Opportunity: Fellowships
Study Levels: Graduate, PhD, Research
Subjects: History
Academic Year: 2017
Funding: $5,000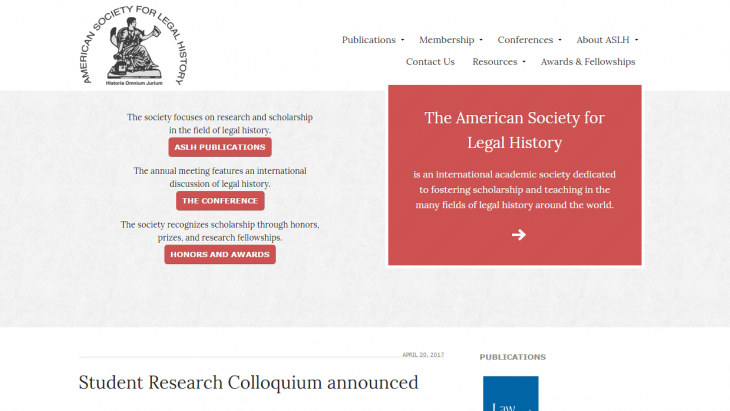 Since 2005, the William Nelson Cromwell Foundation has awarded fellowships to support research and writing in American legal history by early-career scholars. 2017 marks the twelfth year of awarding fellowships, and the application window is now open. Fellowship recipients will receive $5,000, and applicants must be what the foundation calls "early-career" scholars. That is, those who are currently writing or researching a doctoral dissertation or are recent recipients of a graduate degree who are working on their first major research project or monograph. The number of fellowships each year is ultimately at the discretion of the foundation, but in recent years, it has typically awarded between five and nine fellowships.
The Cromwell Foundation has partnered with the American Society for Legal History (ASLH) to assist in reviewing applications. Applicants will submit their materials to the ASLH, which will review the applications and submit recommendations to the Cromwell Foundation. Founded in 1930, the foundation was established with the purpose of promoting and encouraging scholarship in legal history, especially the colonial and early national periods of the United States. It has historically supported the publication of legal records and historical monographs.
There is no application form to complete, but if you are interested in applying, you will need to pull together packets of materials. The first packet must include a description of your research project, which can be no longer than six pages, double-spaced, including notes and a working title. You must also include a proposed budget and timeline, which can either be included in the project description or kept separate. Finally, the first package of application materials must include your curriculum vitae, which cannot be longer than three pages. That entire compilation of documents must then be combined into a single .pdf file and emailed to the selection committee. In the second packet of materials, you must provide two recommendation letters from academic references. Those recommendation letters must be emailed as a .pdf file directly to the committee Chair.
The deadline for applications is July 11, 2017, and fellowship recipients will be notified by early November of the foundation's decision. A formal announcement of the awards will then be made at the annual meeting of the American Society of Legal History. To learn more about the fellowship and how to apply, click here.
To learn more and apply, click here.
---
Subscribe to our mailing list
In order to receive the latest updates of study and scholarship opportunities worldwide.
---
---