Institution: Lakshmi Mittal South Asia Institute at Harvard University
Country: United States
City (Metropolitan Area): Boston -- MA
Applicant Eligible Countries: Afghanistan, Bangladesh, Bhutan, India, Myanmar, Nepal, Pakistan, Sri Lanka
Type of Opportunity: Fellowships, Research
Study Levels: Research
Subjects: Art
Start Date: October 1, 2018
End Date: November 20, 2018
Duration: 8 weeks
Application Deadline: July 2, 2018
Regular Applications Decision Notifications: August 23, 2018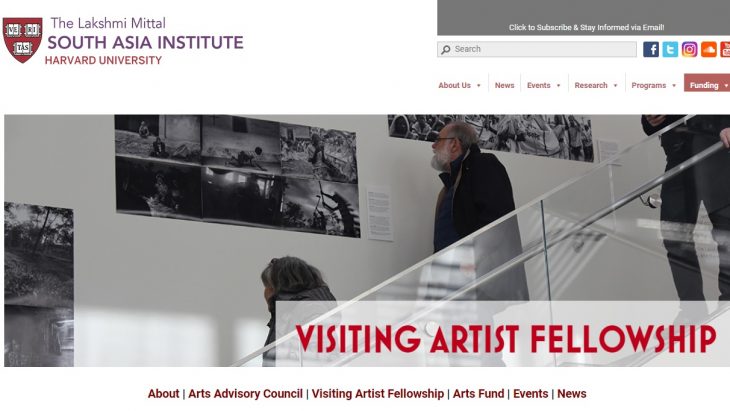 Harvard University invites experts from all disciplines to apply for the Harvard University Lakshmi Mittal South Asia Institute's Art Fellowship. This program is designed to allow emerging and mid-career artists throughout Southeast Asia to travel to Harvard to participate in interdisciplinary exchanges with students and faculty on global issues relevant in their home nations.
Four artists total will be selected, with two traveling to Harvard in the fall of 2018 and two in the spring. Each fellow will enjoy a two-month residency on the Harvard campus in Cambridge, Massachusetts. Visiting artists will attend events and exhibits in collaboration with various departments and faculty. Each artist will also host an open studio exhibition, in which he or she will present either a work in progress or completed project. Artists will also give talks about their practice.
In exchange, fellows will receive ample stipends to cover all exhibit-related costs, living expenses, meals, and cultural excursions. Travel expenses will also be reimbursed, but in a separate fashion.
Candidates should be South Asian artists who work in any medium. Eligible countries include Afghanistan, Bangladesh, Bhutan, India, Nepal, Pakistan, Sri Lanka, and Myanmar. Their art should relate and respond to social and political issues in the region. Individuals whose artwork relates directly to the Institutes' current, ongoing research are especially encouraged to apply.
To apply, each applicant must submit letters of recommendation and a project summary. Project summaries should include the themes of the artist's work and a brief description of why he or she would like to come to Harvard. A personal statement should also be provided, as should work samples of no more than 25 images, 15 pages of text, or 15 minutes of video.
Candidates must hold valid passports and be eligible to work in foreign countries. They should be emerging or mid-career artists who have had minimal opportunities to work abroad. Artists with professional backgrounds and training will receive preference. All applications must be received no later than July 2, 2018, with selected applicants notified by August 13, 2018.
Questions may be directed to sainit@fas.harvard.edu.
To learn more and apply, click here.
---
Subscribe to our mailing list
In order to receive the latest updates of study and scholarship opportunities worldwide.
---
---