Institution: Digital Marketing Institute, University of Westminster
Country: United Kingdom
City (Metropolitan Area): London
Applicant Eligible Countries: Worldwide
Type of Opportunity: Short-term Courses
Study Levels: Professional Diploma
Subjects: Digital Marketing
Start Date: June 6, 2017
Duration: 11 days over 4 weeks
Price: £1,750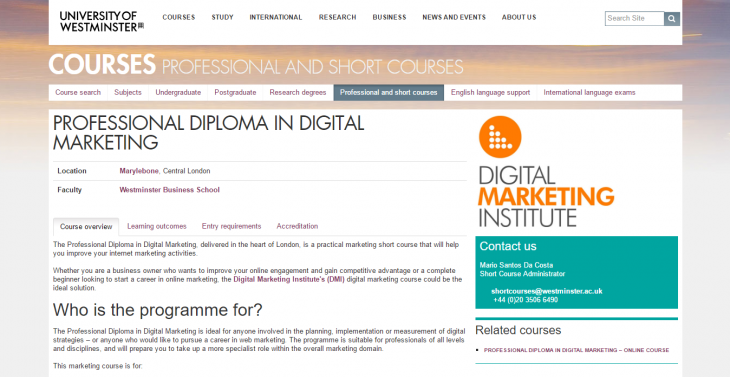 Are you a business owner seeking to improve your online presence and develop a competitive edge? Or maybe you are a beginner seeking a new career in online marketing. The Digital Marketing Institute's (DMI) digital marketing course may be the perfect solution to help you develop your business or launch a new career into the cutting-edge field of digital marketing. Whether you need an introduction to digital marketing, or if you already have experience in this field, the Diploma in Digital Marketing will provide you with the skills you need to plan, implement, and assess digital campaigns.
This marketing course is well-suited for professionals across various levels of engagement with digital marketing, including those who need a basic understanding of digital marketing to get more out of their digital channels. Others who may benefit from this class are experienced marketers who want to advance their careers through formal training, small business owners who want to grow their business, and students who want to gain important skills for a modern workplace.
You will learn all you need to become successful in digital marketing. The course includes a basic introduction to the field and provides instruction about search engine optimization (SEO) and pay-per-click marketing (PPC). Other materials covered in the course include email marketing, digital display advertising, and social media marketing. Of course, mobile internet usage has been rising rapidly, and the class will also teach you about mobile marketing, web analytics, and how to plan a digital marketing campaign.
By the end of the course, you will be able to explain the value of digital marketing and understand why it is a necessary component of a larger marketing strategy. You will also know how to plan, create, and effectively manage search, social media, mobile, and email marketing campaigns. What you learn in the class will help increase traffic to your website and improve online conversion rates, turning more visitors into sales. Additionally, the class will teach you how to use various resources and applications which will help you make your website more profitable. You will leave the class empowered to measure and analyze your visitor traffic so that you can make necessary adjustments in your marketing strategies into the future.
The Digital Marketing Institute has developed its course in partnership with companies such as Google, Facebook, Twitter, Paypal, and Microsoft. Doing so ensures that what you learn is based off current trends and best practices in digital marketing. DMI has approved the prestigious Westminster Business School to offer the course at its Marylebone campus in central London, which means you'll learn from qualified, expert instructors.
The course costs £1,750 and lasts 11 days over four weeks. It meets three days a week: Tuesdays 6-9pm, Wednesdays 6-8pm, and Saturdays 9am-5pm. You can also take the class online, which allows you to complete it in your own time. To start earning your professional diploma in digital marketing, click here.
To learn more and apply, click here.
---
Subscribe to our mailing list
In order to receive the latest updates of study and scholarship opportunities worldwide.
---
---