Institution: University of Southern California
Country: United States
City (Metropolitan Area): Los Angeles -- CA
Applicant Eligible Countries: Worldwide
Type of Opportunity: Degree
Study Levels: Undergraduate
Academic Year: 2018 - 2019
Application Deadline: December 1, 2017
Price: Estimation for 2017-2018: tuition $53,448; total cost: $72,273.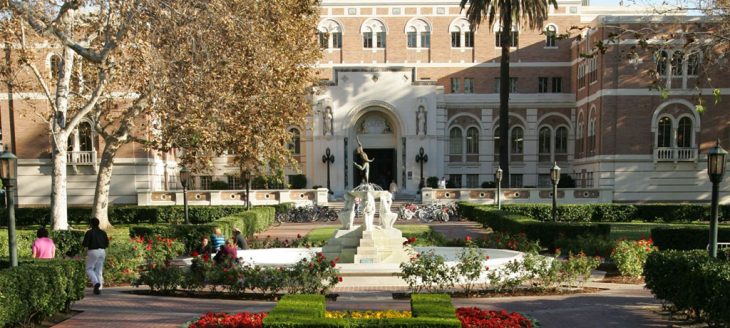 The University of Southern California invites qualified undergraduate applicants to apply for fall admission to its programs.
Each application will be carefully reviewed. The admissions team will take into consideration personal circumstances, special achievements, academic performance and rigor, writing skills, standardized test scores, extracurricular participation, leadership involvement, and community services. No specific curriculum is required, although it is expected that students have completed the most rigorous curriculum available in English, math, science, foreign language, social studies, and the arts. Students should also demonstrate some preparation for their intended academic majors, along with an openness to new ideas and subject areas.
The admissions team also looks for students who will speak up for causes in which they believe, and will work to get involved and get people thinking. The team will evaluate each applicant's personal essay and short-answer responses, along with course selection, extracurricular activities, and letters of recommendation, to glean this information. Students should also submit a portfolio, resume or additional writing sample, a school report via the Common Application, and fall grades.
International applicants are those who will be entering, or who have already entered, the United States with a student visa. These students should follow the same application procedures as first-year or transfer applicants. All academic records must be provided with an English translation. They should also submit SAT or ACT scores, with an additional TOEFL, IELTS, or PTE score if the student's native language is not English. A third-party interview option is also available for international students who wish to express themselves beyond the application.
The University is need-blind, meaning that financial need does not influence any admissions decisions. Nearly two-thirds of all undergraduates receive financial aid. However, international applicants must submit a Financial Statement of Personal or Family Support, along with a documentation of available funds.
Applications must be received by December 1. The university does not employ Early Action or Early Decision programs, nor does it utilize a waitlist. Applicants will be notified by April 1, and will receive a decision of their merit scholarship status in February. For more information on the application process, students should visit admission.usc.edu.
To learn more and apply, click here.
---
Subscribe to our mailing list
In order to receive the latest updates of study and scholarship opportunities worldwide.
---
---