Institution: University of Oxford
Country: United Kingdom
City (Metropolitan Area): Oxford
Applicant Eligible Countries: Worldwide
Type of Opportunity: Scholarships
Study Levels: Doctoral, Graduate
Duration: Full period of study
Funding: At least £14,553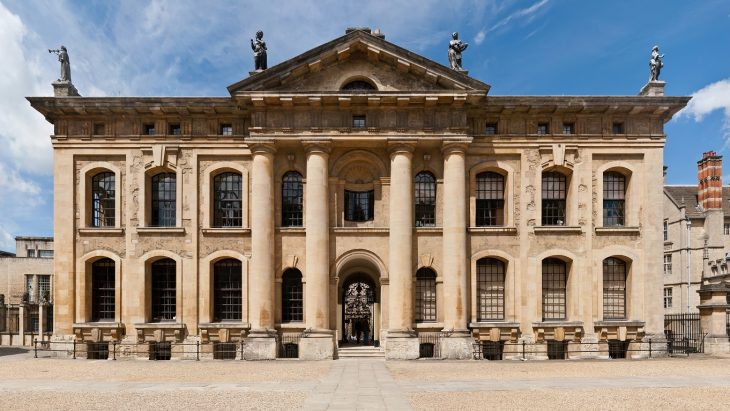 Clarendon Building. Photo by DAVID ILIFF. License: CC-BY-SA 3.0

The Clarendon Scholarships at Oxford University provide academically distinguished students with the opportunity to study at Oxford and benefit from social, academic, and professional networks.
1n 2017-2018, there were around 400 Clarendon scholars at Oxford, hailing from over 70 different nations. 40 new scholarships are available each year. These competitive, prestigious awards cover all tuition and fees (at least £14,553), along with providing a generous stipend for living expenses. The awards typically last for the full period in which the student is expected to pay tuition fees. Most students who apply for and receive these awards will be working towards a PhD, although scholarships are also awarded for two- or one-year graduate degrees. Postgraduate certificate or diploma courses are not eligible for the scholarship.
Oxford University aims to select scholars who will become experts in the field. They will experience a highly-sought after interdisciplinary education and develop crucial leadership skills. The scholarship also allows students to engage in social events that are career-oriented, cultural, and educational in nature.
To be eligible, students must have applied to their programs by the January admissions deadline. Any subject area or major is eligible, with no preference given towards any specific area of interest. Applicants who have been offered deferred admission to begin studies in 2018-2019 are not eligible for the award, nor are current Oxford students.
No separate application process is necessary for the scholarship. When a student applies for admission, he or she will be automatically considered by academics in his or her proposed field of study. They will determine whether the student should be offered admission and whether consideration for a Clarendon scholarship is appropriate. Each division's Funding Panel meets and makes decisions by March of each year.
After the Funding Panels have determined their nominations for the Clarendon Scholarship, these names are sent forward to the Clarendon Fund Administrators, who sends out scholarship offers and welcome letters. Most are sent by early April. Providing that an interested student meets the conditions of the offer of admission, the scholarship is guaranteed.
Although only successful scholarship recipients are notified of the decision, a small amount of candidates may be considered later in the year. This will only happen in the case a previously accepted scholarship recipient chooses not to attend the university.


For more information and to apply to Oxford University, interested students should visit https://www.ox.ac.uk/clarendon.
To learn more and apply, click here.
---
Subscribe to our mailing list
In order to receive the latest updates of study and scholarship opportunities worldwide.
---
---