Institution: University of Montreal
Country: Canada
City (Metropolitan Area): Montreal
Applicant Eligible Countries: Worldwide
Type of Opportunity: Degree
Study Levels: Undergraduate
Academic Year: 2019 - 2020
Application Deadline: February 1, 2019
Price: $8,186 per session, $425 per thesis session, plus $1,225 living expenses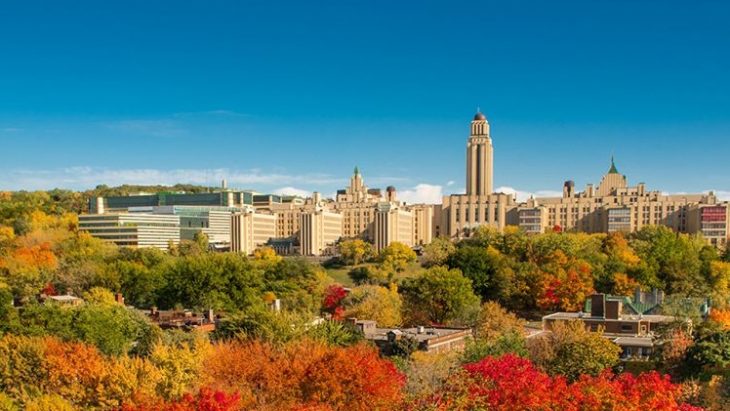 The University of Montreal has a longstanding reputation as an "international university in a city you can call home." It is ranked in the first percentile of the world's most prominent universities, and as a result, attracts students from almost every country in the world.
Montreal is well known for its cultural diversity, and the university is no exception. It offers education in multiple fields of study, many of which offer interdisciplinary degrees and approaches. International students are invited to apply to the University of Montreal for fall, summer or winter academic year.
The university offers many benefits to international students, including all-hours access to the Bureau des etudiants internationaux, also known as the Foreign Students Office, which helps acclimate students to Quebec and all of its related customs, requirements, features, and demands. Scholarships and funding are also available, many of which are significant in cost and can help make the price of an international education more affordable.
Each international student must obtain a Quebec Acceptance Certificate and study permit upon being accepted to the university. In some cases, a visitor visa is also required. These can be obtained by contacting the Canadian authorities or diplomatic mission after receiving an offer of admission. Proof of the admission offer, along with evidence of ability to pay, must be provided to this office. Acceptance certificates and study permits are not required if the academic program of study will last less than six months. Individuals wishing to stay in Quebec longer after graduation must apply for a Post-Graduation Work Permit Program , which may lead to permanent residence, if desired.
While the University of Montreal is a French-speaking university, many departments are committed to providing a bilingual environment and offer graduate programs in English as well as French.
For fall and summer admission, all graduate applicants must submit applications by February 1st. For winter, all applications must be submitted by September 1st. However, some programs do offer availability after these deadlines have passed. Regardless of application deadline, all foreign students should provide at least three months to complete all permit requirements necessary to study in Canada. Moe information about application requirements may be found on the university website, at https://admission.umontreal.ca.
To learn more and apply, click here.
---
Subscribe to our mailing list
In order to receive the latest updates of study and scholarship opportunities worldwide.
---
---