Institution: Google
Applicant Eligible Countries: Algeria, Angola, Benin, Bostwana, Burkina Faso, Burundi, Cameroon, Cape Verde, Central African Republic, Chad, Comoros, Cote D'Ivoire, Democratic Republic of Congo, Djibouti, Egypt, Equatorial Guinea, Eritrea, Ethiopia, Gabon, Gambia, Ghana, Guinea, Guinea-Bissau, Kenya, Lesotho, Liberia, Libya, Madagascar, Malawi, Mali, Mauritania, Morocco, Mozambique, Namibia, Niger, Nigeria, Republic of Congo, Rwanda, Sao Tome and Principe, Senegal, Seychelles, Sierra Leone, Somalia, South Africa, South Sudan, Sudan, Swaziland, Tanzania, Togo, Tunisia, Uganda, Zambia, Zimbabwe
Type of Opportunity: Online Courses, Scholarships
Study Levels: Certificate Program
Subjects: Information and Communications Technology (ICT)
Start Date: May 8, 2018
Duration: 2 months
Application Deadline: April 24, 2018
Regular Applications Decision Notifications: May 2, 2018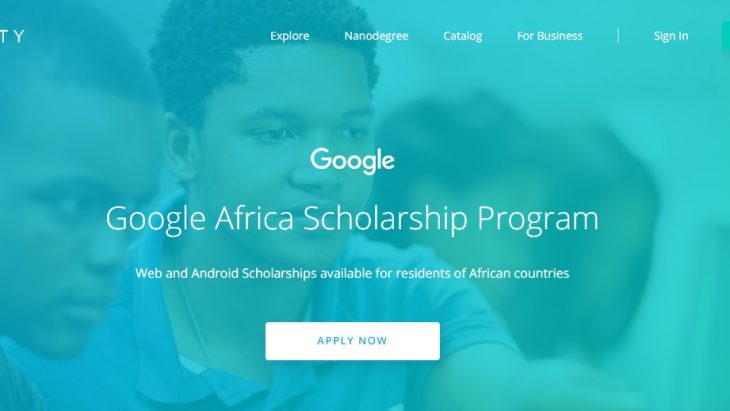 Udacity's Google Africa Scholarship Program offers Web and Android scholarships to residents of African countries. These scholarship programs enable talented students to learn the skills necessary to accelerate their careers, or to advance their progress in the field of mobile and web development.
The curriculum of this program is designed by Google and Udacity, and supports a large and quickly developing community of developers. The scholarship is open to students who are at least eighteen years old and reside in an African nation. Once accepted, each student will be placed in a beginner or intermediate track, depending on his or her existing abilities and relevant experiences. Some scholarship recipients are even eligible to participate in Andela Learning Communities. Top students from each track will earn full scholarships to an Android or Web Development Nanodegree program.
There are 5,000 seats in the beginner track programs. No programming experience is required, and this program provides a two-month access to Intro to HTML and CSS. Students learn how to design and construct effective and attractive websites. The top 150 students from the Beginner Track are awarded scholarships to the Front-End Web Developer Nanodegree program. The intermediate track hosts 2,500 seats and requires some programming experience.
Students learn how to build next-generation web applications that are more responsive. From the intermediate track, 10 0students will be awarded scholarships to the Mobile Web Specialist Nanodegree program.
The program takes place entirely online and has few prerequisites besides prior programming experiences (in limited cases) as well as an age requirement of eighteen years or older. Students may complete the courses wherever they live. The first phase of the scholarship provides two months of access to a curated path of Udacity courses, custom-fit to ensure that students are working within their skill levels. The second phase provides 500 students with next-level access and funding for additional coursework.
All applications are due by April 24, 2018, with recipients notified by May 2. Programs begin on May 8. The application process is quick and straightforward, and requires students to respond to questions about their academic goals and experiences. Questions can be directed to scholarships-support@udacity.com.
To learn more and apply, click here.
---
Subscribe to our mailing list
In order to receive the latest updates of study and scholarship opportunities worldwide.
---
---