Institution: World Learning
Country: United States
Applicant Eligible Countries: Albania, Algeria, Armenia, Azerbaijan, Bahrain, Bangladesh, Belarus, Bosnia-Herzegovina, Burma (Myanmar), Cambodia, China, Costa Rica, Dominica, Egypt, El Salvador, Georgia, Guatemala, Haiti, Honduras, India, Indonesia, Israel, Jordan, Kazakhstan, Kenya, Kosovo, Kuwait, Kyrgyzstan, Laos, Lebanon, Macedonia, Malawi, Malaysia, Maldives, Mauritania, Moldova, Mongolia, Montenegro, Morocco, Mozambique, Nepal, Nicaragua, Niger, Oman, Palestine, Panama, Paraguay, Philippines, Russia, Saudi Arabia, South Korea, Sri Lanka, Tajikistan, Thailand, Turkmenistan, Ukraine, Uzbekistan, Venezuela, Vietnam, Zimbabwe
Type of Opportunity: Scholarships
Study Levels: Undergraduate
Academic Year: 2018 - 2019
Applications Open: November 1, 2017
Application Deadline: December 31, 2017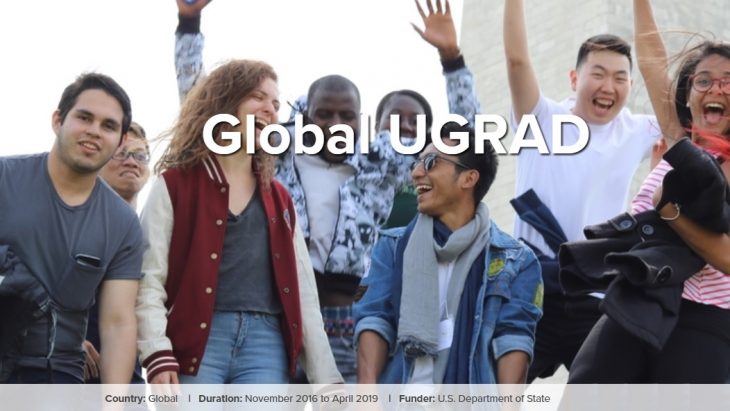 The Global Undergraduate Exchange Program invites students to apply to its exciting non-degree full-time study program. These programs are offered to roughly 2,000 global students. Participants will leave the United States with the skills necessary to become leaders in their professions and within their local communities. Graduates of this program have gone on to receive Fulbright grants, successful professional internships, and meaningful employment.
This program is offered to outstanding undergraduate students from anywhere in the world. The program incorporates full-time study with community service, professional development, and cultural enrichment. Students will leave the program with a strong understanding of how people of the United States interact with those from other countries. Students will explore the American educational system in detail, learning how their culture interacts with the culture of the United States. This program fosters a fulfilling exchange experience that influences academic and leadership abilities for students from Global UGRAD countries.
Students will also be given opportunities to network with other students and professionals in the United States. They will build academic knowledge and professional skills, along with a comprehensive knowledge of the United States.
The program is open to students of all countries, with the exception of the United States (this exception includes permanent residents or individuals currently studying, residing, or working outside of their home countries). Local employees of the United States missions abroad are also ineligible, as are immediate family members of employees of the U.S. Department of State. Current World Learning employees and their families are also ineligible to participate.
Applicants must also be citizens of one of the participating countries, and have already completed secondary education in that country. Participating countries include Algeria, Albania, Armenia, Azerbaijan, Bahrain, Bangladesh, Belarus, Bosnia-Herzegovina, Burma (Myanmar), Cambodia, China, Costa Rica, Dominican Republic, Egypt, El Salvador, Georgia, Guatemala, Haiti, Honduras, India, Indonesia, Israel, Jordan, Kazakhstan, Kenya, Kosovo, Kuwait, Kyrgyzstan, Laos, Lebanon, Macedonia, Malawi, Malaysia, Maldives, Mauritania, Moldova, Mongolia, Montenegro, Morocco, Mozambique, Nepal, Nicaragua, Niger, Oman, Palestinian Territories, Panama, Paraguay, Philippines, Russia, Saudi Arabia, Serbia, South Korea, Sri Lanka, Tajikistan, Thailand, Turkmenistan, Ukraine, Uzbekistan, Venezuela, Vietnam, and Zimbabwe.
Students should also have a solid command of written and spoken English and be prepared to begin studies in August 2018 or January 2019. They should be eligible to apply for a U.S. study visa and be medically cleared. They should plan to return to their home countries upon completion of the program. For more information or to apply, students can visit the World Learning website at https://www.worldlearning.org/projects/global-ugrad/or email info@wordlearning.org.
To learn more and apply, click here.
---
Subscribe to our mailing list
In order to receive the latest updates of study and scholarship opportunities worldwide.
---
---