Institution: University of London
Country: United Kingdom
City (Metropolitan Area): London
Applicant Eligible Countries: Europe
Type of Opportunity: Scholarships
Study Levels: Graduate
Subjects: Information Security
Eligibility: UK or EU citizen, currently resident in the UK.
Academic Year: 2017 - 2018
Application Deadline: September 1, 2017
Funding: £15,725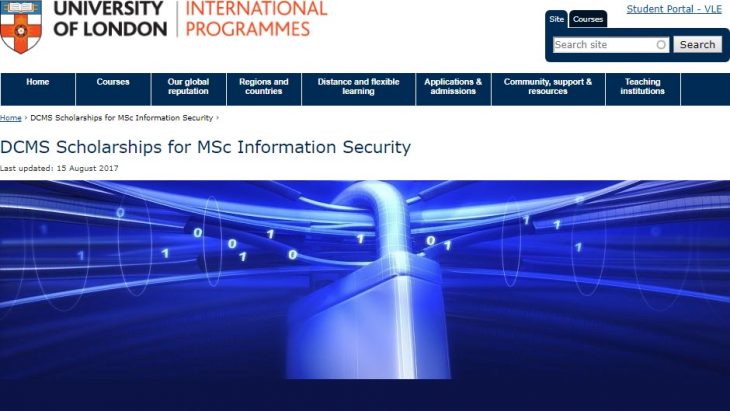 The University of London announces an exciting new scholarship opportunity for part-time distance learning students. Providing by a component of the Department for Culture, Media and Sports (DCMS) project (which is funded by the National Cyber Security Programme), the program offers two scholarships to UK residents. These awards will cover full tuition of around £15,725 but will not cover examination fees.
Students must be eligible to begin a Master's program in Information Security at the start of the 2017-2018 academic year. Successful applicants will not be pursuing any other formal education, will not be applying directly from an undergraduate degree, or have never held employment as a cyber security professional. Applicants who have any convictions related to cyber security or fraud may not apply.
Preference will be given to students looking to retrain in the profession: for example, applicants who are unemployed, new parents finishing a maternity or paternity leave, or career changers. Information technology practitioners looking to specialize in cyber security or individuals who fit into a demographic that is typically underrepresented in the profession (such as women and minorities) will be given first priority as well.
To apply, students must first apply for the distance learning MSc in Information Security at the University of London. This program addresses both the management and technical skills necessary for cyber security. Students enrolled in this program will learn about computer and network security, project management, and cryptography. Students will have access to Royal Holloway's superior expertise and consulting experiences. The university has been recognized several times as an Academic Centre of Excellence in Cyber Security Research (ACE-CSR). The program is one of the first distance-learning programs to receive GCHQ accreditation.
Students should apply by September 1, 2017. Questions about the scholarship can be relayed to Peter Komisarczuk, the Distance Learning Program Direct at the University of London, at peter.komisarczuk@rhul.ac.uk.
To learn more and apply, click here.
---
Subscribe to our mailing list
In order to receive the latest updates of study and scholarship opportunities worldwide.
---
---