Institution: University of Toronto
Country: Canada
City (Metropolitan Area): Toronto
Type of Opportunity: Scholarships
Study Levels: Undergraduate
Start Date: September 1, 2018
Application Deadline: November 30, 2017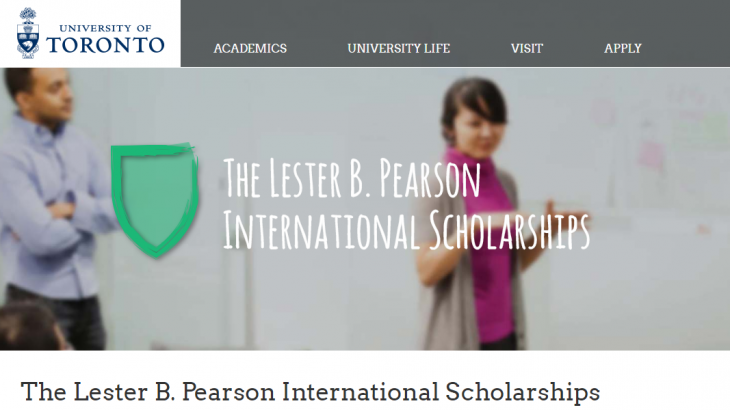 The Lester B. Pearson International Scholarship is offered by the University of Toronto to provide students with unique, unparalleled learning opportunities. The scholarship enables to study at a university with a close-knit learning community within 700 undergraduate programs. These include majors in the fields of Humanities & Social Sciences, Life Sciences, Physical & Mathematical Sciences, Commerce & Management, Computer Science, Engineering, Kinesiology & Physical Education, Music, and Architecture.
The University of Toronto was established in 1827 and is Canada's largest university. Not only is it recognized as a top-ranked leader in both research and education, the university hosts a distinguished faculty with an impressive record of scholarship and innovation. The university attracts the highest performing and most qualified students from around the world to a diversity of programs and resources. The university boasts over 500,000 alumni around the world, a network which allows students to find meaningful employment quickly after graduation.
The scholarship is intended to allow students demonstrating exceptional academic achievement to study in one of the world's most multicultural cities. The University of Toronto attracts students from over 165 countries and regions within a small, welcoming learning environment. The scholarship program will allow students to focus on the impact the student has already had on their community, while providing the opportunity to develop his or her future potential to contribute similarly to the global community.
This prestigious and competitive scholarship is open to all students around the world, including international students at Canadian high schools. The awards cover tuition, books, incidental fees, and residential support for four years. The scholarship may only be used at the University of Toronto. Approximately thirty-seven awards will be designated.
To apply, interested students must be nominated by their school's guidance counselor and have already applied to undergraduate studies at the University of Toronto. Nominations must be received by November 30, 2017. Each school may only nominate one student. Once a student has bene nominated, he or she will receive a secure, direct link to the scholarship application.
The ideal candidate will exhibit outstanding academic creativity, achievement, leadership, and potential. He or she will demonstrate exceptional breadth of interest as well as involvement in activities and academics.
Applicants must be international students in their final year of secondary school (with a graduation date no earlier than June 2017). They should plan to enroll at the University of Toronto in September 2018. Unfortunately, currently enrolled students will not be considered. All applications must be received by January 15, 2018. Students will be notified of their application decision by April 2018. Questions, nominations, or comments can be directed to pearson.scholarship@utoronto.ca.
To learn more and apply, click here.
---
Subscribe to our mailing list
In order to receive the latest updates of study and scholarship opportunities worldwide.
---
---