Institution: All Souls College
Country: United Kingdom
City (Metropolitan Area): Oxford
Applicant Eligible Countries: Worldwide
Type of Opportunity: Fellowships
Study Levels: Post-Doctoral
Subjects: Language, Literature, Mathematics, Political Science, Social Sciences
Application Deadline: September 7, 2018
Funding: The annual stipend is £41,231 to £44,052.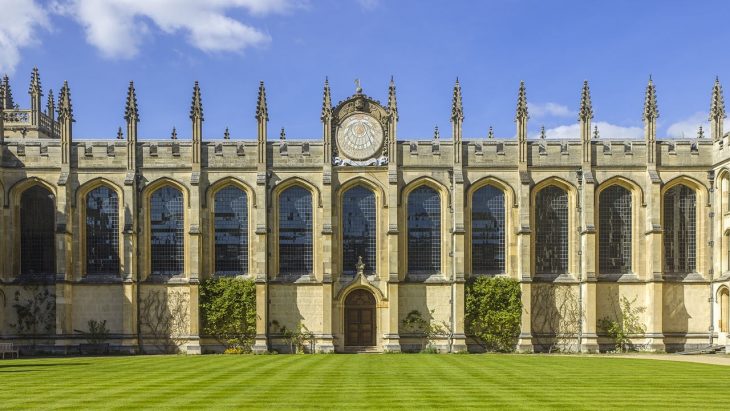 All Souls College at the University of Oxford invites qualified post-doctoral research fellows to join their team for 2019. Candidates will be researchers in one of the following subjects: Modern Languages, Literature In English, Mathematics, or Social and Political Sciences (only Politics and International Relations, Social Anthropology, and Sociology). Fellowships are offered for five years each and are non-renewable. These awards are also fixed-term and will take place starting on October 1, 2019. Minority and ethnic candidates, as well as women, are especially encouraged to apply.
Applications will only be accepted from candidates who were awarded doctorates between August 1 2016 and October 1 2019. Some conditions may warrant an exception, such as grave illness or a parental leave, but a special application should be submitted before September 7, 2018 to accommodate for these considerations.
These postdoctoral programs will allow candidates to engage in an independent program of study and research for publication directly at Oxford, with occasional leave of absences granted to work away from Oxford. Fellows must report regularly to the Academic Purposes Committee regarding the progress on their research and may also be required to engage in teaching, research supervision, and lecturing at the university as well. Fellows are considered full Fellows of the college and will participate in all college meetings and activities.
In return, selected fellows will be offered a number of benefits to meet their employment and research needs. The annual stipend ranges from £41,231 to £44,052 and also includes a housing allowance. Fellows on the upper end of the pay range will be those who deliver at least sixteen lectures a year. Stipends are also contingent on fellows conducting full-time research that is not done in conjunction with other funding or remuneration sources. Most fellows will receive housing either in the College or within 25 miles of Oxford as well. Fellows will receive a pension, dining rights, and may be subject to receive relocation costs. All fellows may also receive medical insurance and childcare assistance, as well as a £3,750 per year academic support stipend.
To apply, candidates should complete the online application form no later than Friday, September , 2018. This application must be accompanied by a short thesis abstract up to 500 words, a curriculum vitae, and a statement of proposed work (no more than 1,000 words, including references and bibliography). A sample of written work and the names of two referees should also be supplied. Selected candidates will be interviewed by January 11, 2019. Questions can be directed to online.apps@all-souls.ox.ac.uk.
To learn more and apply, click here.
---
Subscribe to our mailing list
In order to receive the latest updates of study and scholarship opportunities worldwide.
---
---