Institution: German Academic Exchange Service (DAAD)
Country: Germany
Applicant Eligible Countries: Worldwide
Study Levels: Certificate Program
Subjects: Journalizm
Application Deadline: May 31, 2018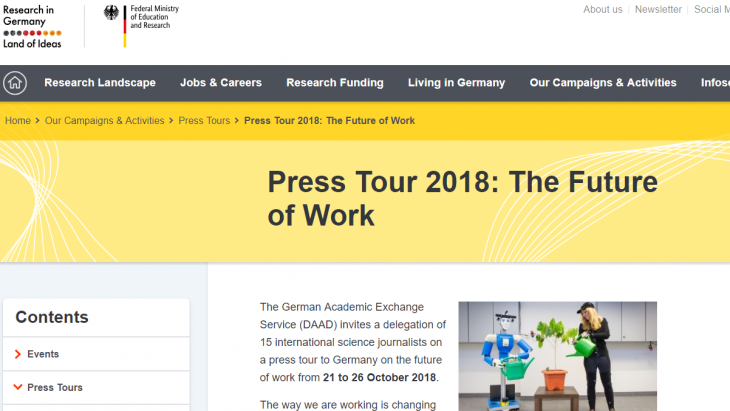 Each year, the German Academic Exchange Service invites journalists to attend a press tour regarding a relevant topic. These press tours are designed for both German and foreign tourists, and allow professionals to interact with each other as well as with German research institutions, universities, and corporate research and development facilities. These journalists receive a one-of-a-kind look at the German research landscape, with a special focus on science and economics. Journalists of all mediums, including print, radio, and web sources, are invited to apply.
This year, fifteen international science journalists are invited to attend a press tour to discuss the future of Germany and of work. In 2018, the conference will be held between October 21 and October 26.
The purpose of this conference is to address how the way we work is rapidly changing. Both automation and globalization, as well as digitization, are having a significant impact on the way in which businesses and individuals go about their daily work tasks. This press tour will cover topics such as how we will work in the future, as well as where we will work. It will address the skills and education that may be required, and whether robots or other intelligent or automated machines will take our jobs. This year's tour is formally known as "Science Year 2018 – Working Life of the Future" and will explore all opportunities and difficulties related to future work.
This program allows journalists to meet influential researchers and key developers at research institutes, companies, and universities within Germany. Sample organizations and institutions that will participate in this tour include Fraunhofer Institute for Industrial Engineering, Cyber Valley, German Research Center for Artificial Intelligence, and Karlsruhe Institute of Technology, among many others.
Currently, applications are no longer being accepted, but applicants may inquire and receive more information about the state of their applications by visiting the program website. Information about the 2019 program will also be posted there once it is available.
To learn more and apply, click here.
---
Subscribe to our mailing list
In order to receive the latest updates of study and scholarship opportunities worldwide.
---
---