Country: Greece
Applicant Eligible Countries: Worldwide
Application Deadline: February 28, 2018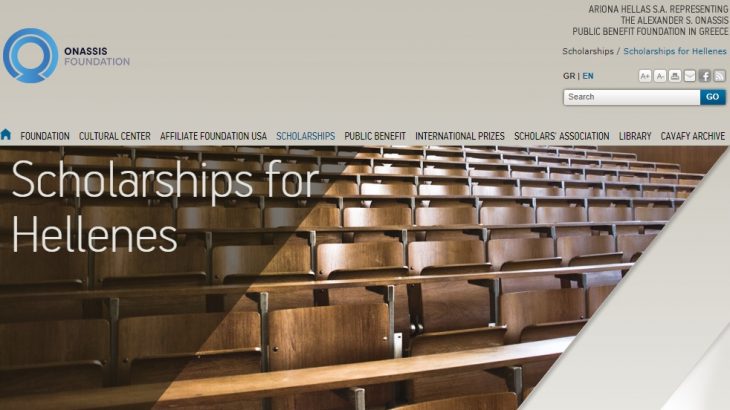 In 1978, the Onassis Foundation developed a significant program of scholarships for Hellenes. These scholarships were originally awarded to Greek University graduates for excellence in postgraduate or doctoral studies. They were available around the world. However, since 1998 the program has also provided awards to doctoral students in Greek public universities.
The foundation was established in honor of Aristotle Onassis, who was a Greek businessman that served as a symbol of wealth. This wealth was demonstrated financially as well as educationally, culturally, spiritually, and socially. For forty years, the efforts of the Onassis Foundation have served to provide access to this wealth through unleashing students' potential as they work, study, and explore. In addition to a generous scholarship program, the foundation has also provided support to the international community through facilities such as the Onassis Cardiac Surgery Center and grants to cultural associations, museums, and chairs and departments of Hellenic Studies in universities around the world.
Each year, over one hundred scholarships are awarded to students studying in Greece or abroad. Scholars are selected based on their academic excellence, according to recent and relevant reviews of individual students by their academic advisors. Academic advisors are often university professors, academics, scientists in specific areas of study, and artists. Participation is an honor, but entirely voluntary.
Current scholars are renowned participants in academics, science, the arts, business, and athletics. Over 6,000 scholarships have been awarded to date, honoring students in over thirty countries. These scholarships enable students to engage in academic research and activities in practically any field, but especially those related to Greek studies.
Applications are now open, and can be downloaded, printed, or submitted via the Greek version of the Onassis Foundation website. All materials must be received no later than February 28, 2018. In addition to a completed application, all applicants must submit recommendation letters and certificates of class rankings.
To learn more and apply, click here.
---
Subscribe to our mailing list
In order to receive the latest updates of study and scholarship opportunities worldwide.
---
---