Institution: CUNY Graduate School of Journalism
Country: United States
Applicant Eligible Countries: Worldwide
Type of Opportunity: Fellowships
Study Levels: Mid-career
Subjects: Journalizm
Duration: 1 - 3 months
Application Deadline: December 15, 2017
Funding: Up to $5,000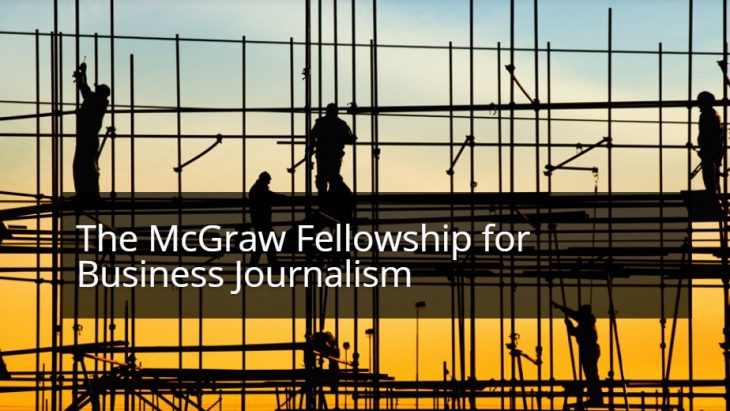 The Harold W. McGraw, Jr. Center for Business Journalism has been offering fellowships to accomplished business journalists since the summer of 2014. Nearly two dozen journalists have since been awarded grants, ranging in amounts up to $15,000.
Applications for this program are accepted twice a year. The next deadline is December 15, 2017. Applications for summer programs are due June 30, 2018. Some time-sensitive projects may be funded as well, on a case-by-case basis. Potentially qualifying applicants should contact mcgrawcenter@journalism.cuny.edu.
To be eligible for the fellowship, journalists must have at least five years of professional experience in journalism. Freelance journalists, reporters, and editors may all apply. Applicants should submit a well-focused story proposal of no more than three pages through the online form. This is somewhat like a pitch that would be submitted to an editor. The proposal should demonstrate that the story is solid and highlight what is new or significant about it. It should also underline why the story matters and what its impact might be.
Applications should also submit a timeline for completing the story, as well as three journalism samples. The samples should be professionally published work. In addition, a resume and references from two editors or others familiar with your work should be submitted. No budget is required at the time of application, but finalists will be asked to submit a budget later on during the application timeline.
Awards of up to $5,000 a month for one to three months will be awarded. In specific cases, grants may be awarded for longer periods of time. Applicants should demonstrate an ability to report and execute a complex project.
Candidates should also demonstrate a solid background or reporting expertise on the subject of the proposed piece.
During the fellowship, recipients will be supplied with editorial supervision. They will work closely with editors at the McGraw Center to edit, place, print, and distribute the produced stories. They will be published in print, radio, or digital outlets. In some cases, they may be published as e-books or through the CUNY J-School's book imprint. They will also appear on the McGraw Center website.
To learn more and apply, click here.
---
Subscribe to our mailing list
In order to receive the latest updates of study and scholarship opportunities worldwide.
---
---