Institution: European University Institute
Country: Italy
Applicant Eligible Countries: Worldwide
Study Levels: Post-Doctoral
Subjects: Economics, History, Political Science, Social Sciences
Eligibility: Within 5 years from the completion of their PhD.
Duration: 1 or 2 years, in exceptional cases 3 years.
Academic Year: 2018 - 2019
Application Deadline: October 25, 2017
Funding: 2000 euro per month plus - when appropriate - a family allowance.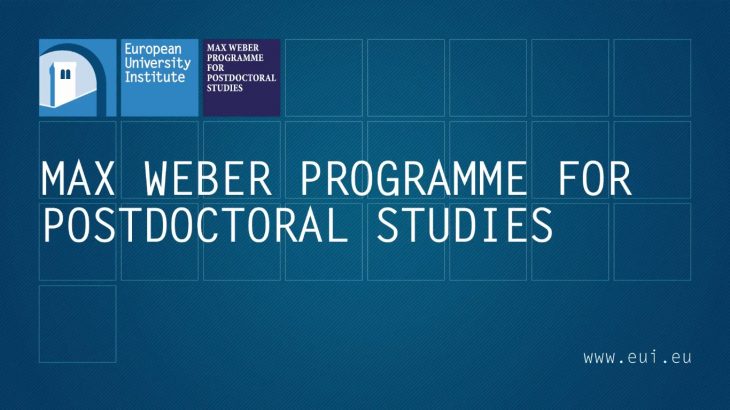 The European University Institute (EUI) shares an established global program fellowship opportunity for qualified applicants. The Max Weber Programme (MWP) is the largest and most innovative postdoctoral experience in historical and social sciences. Applicants frequently cite political and social sciences economics, law, and history as their areas of interest. Although the program is housed at the European University Institute, it is not exclusive to European Union citizens.
Applicants must be within five years of completing their PhD and can reside anywhere in the world. The program will be held at a global institution in Italy. Faculty and researchers within the program hail from a wide range of European countries, from Portugal to Russia, as well as beyond. The program attracts candidates from as far as North and Latin America, Asia, and the Antipodes. Despite this highly beneficial and diverse mix, however, it is important to note that the native language of the program is English.
The program is highly selective and attracts over 1200 applicants each year for approximately sixty fellowships. The Max Weber Programme awards fellowships ranging from one to three years depending on the department. Successful recipients are awarded a grant of 2000 euros per month plus a family allowance if appropriate. Fellows also enjoy exclusive access to the research facilities of the European University Institute. These include an exceptional library, shared workspaces, and a personal fund of 1000 euros for independent research.
The program helps postdoctoral students become fully integrated members of an outstanding global academic community. Fellows are provided training in publishing, teaching, presenting, and grant applications. As a result, most Max Weber Fellows immediately secure an academic position in top-ranked institutions upon completing the program.
To apply for the 2018-2019 academic year, students should submit applications and required materials by October 25, 2017. They should submit an application form, CV with a list of publications, academic career statement, research proposal, and letters of reference. Questions about the application process or program may be directed to the Academic Service office at the European University Institute at applyfellow@eui.eu or +39 055 4685 377.

To learn more and apply, click here.
---
Subscribe to our mailing list
In order to receive the latest updates of study and scholarship opportunities worldwide.
---
---