Institution: Xiamen University
Country: China
City (Metropolitan Area): Xiamen
Type of Opportunity: Degree, Scholarships
Study Levels: Graduate
Eligibility: Non-Chinese citizens under the age of 45.
Applications Open: February 1, 2021
Application Deadline: April 15, 2021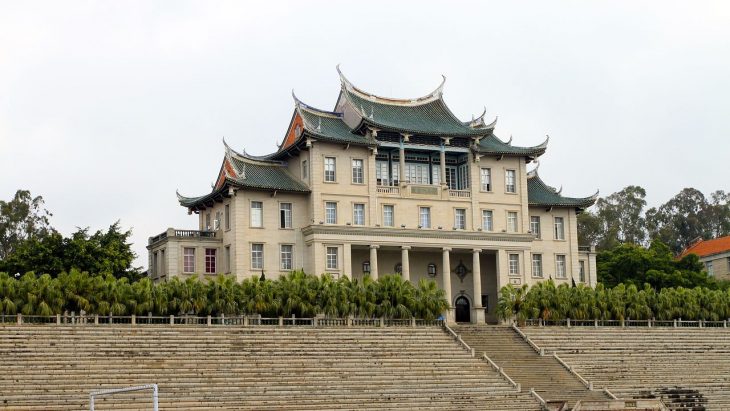 Picture: JesseW900, Wikipedia
Xiamen University offers exceptional master's and doctoral programs, with over 19,000 students enrolled in graduate studies. In addition, about 1,500 international students are enrolled in the top-ranking graduate programs at the university, many of which are respected around the world.
The university will be seeking applicants for the 2021 academic year. Applications must be received in full no later than April 15, 2021. Application forms can be accessed at http://application.xmu.edu.cn. Here, candidates can also find information on scholarships as well as access other forms required by the university.
Each international candidate must complete an application form for international students. This should be completed in Chinese or English. Bachelor's degree certificates or certificates of the expected graduation should also be supplied. Academic transcripts for all programs attempted should be submitted, as should a detailed study or research plan of no less than 1,000 words. This plan should detail the candidate's intentions in applying for the program and should be written in either Chinese or English.
Two letters of recommendation, written in either Chinese or English, must also be supplied. Ideally, these letters will be from professors or associate professors who know the applicant well. Certificates for language proficiency in either Chinese or English should also be supplied, with the language determined based on the desired program and medium of study.
Each candidate must also supply a scanned copy of a regular passport. This must be valid until October 31, 2021. Applicants must provide CVs, written in either Chinese or English, as well as a foreigner physical examination form, a financial support guarantee statement, and other supplementary materials as required by individual departments or programs of study.
The university awards a number of scholarships to select candidates each year as well. These are offered as full or partial awards, with options including the University Postgraduate Program, the Silk Road Program, the Marine Scholarship, the Bilateral Program, and several others. Information on these awards, including how to apply, can be found on the university's website.
Questions may be directed to the XMU Admissions Office (International Students Recruitment) at +86 (0)592 2184792/2188375 or via email at admissions@xmu.edu.cn.
To learn more and apply, click here.
---
Subscribe to our mailing list
In order to receive the latest updates of study and scholarship opportunities worldwide.
---
---