Institution: Massachusetts Historical Society
Country: United States
City (Metropolitan Area): Boston -- MA
Applicant Eligible Countries: Worldwide
Type of Opportunity: Fellowships
Study Levels: Doctoral
Subjects: History
Application Deadline: January 15, 2019
Funding: Stipend of $4,200 per month and housing allowance of up to $500 per month.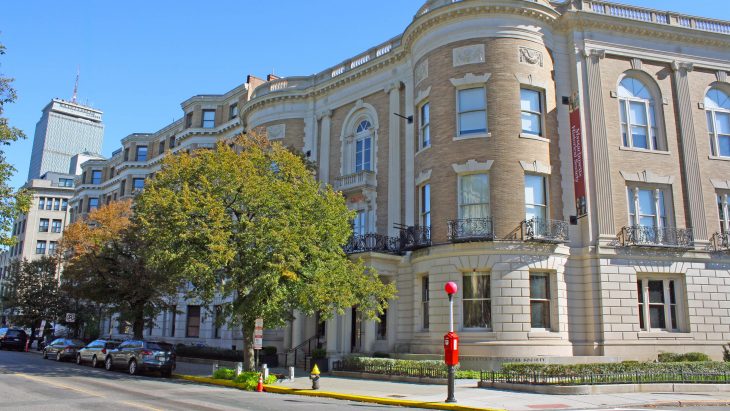 The Massachusetts Historical Society announces the availability of two long-term fellowships for the 2019-2020 academic year. This stipend is governed by an NEH formula and awards up to $4,200 per month for four to twelve months.
Through this fellowship, candidates may also apply for a housing allowance of up to $500 per month, as well as for a professional expense allowance. Fellowships are open to any American citizens, as well as foreign nationals who have resided within the United States for at least three years prior to the application deadline. Fellows must have completed the training for the terminal degree in their fields, typically the Ph.D., by the application deadline. Fellowships may not be awarded to graduate students.
Each application will be evaluated based on the quality of the proposed project, as well as their relationship to the Society's collections. Candidates who have not held a long-term grant over the three years prior to the fellowship term will be given priority consideration.
To apply, interested candidates should submit a cover letter, as well as an updated curriculum vitae. A project proposal of 1,000 words in length must also be supplied. This should include a thorough description of the project, as well as a statement underscoring the historiographical importance of the proposed project. A list of the specific MHS collections the candidate wishes to consult should also be supplied.
In addition to these materials, each candidate must also supply two letters of recommendation and a
"Certification for Participants" form. This is available as an external link from the application and may be submitted as an attachment. All materials must be submitted no later than January 15, 2019. Questions about the applicator process, or the fellowship itself, can be directed by email to fellowships@masshist.org or by phone to (617) 646-0577.
To learn more and apply, click here.
---
Subscribe to our mailing list
In order to receive the latest updates of study and scholarship opportunities worldwide.
---
---