Institution: Poynter Institute
Country: United States
Applicant Eligible Countries: Worldwide
Type of Opportunity: Trainings & Conferences
Subjects: Leadership, Media
Start Date: March 18, 2018
End Date: March 23, 2018
Application Deadline: November 30, 2017
Price: FREE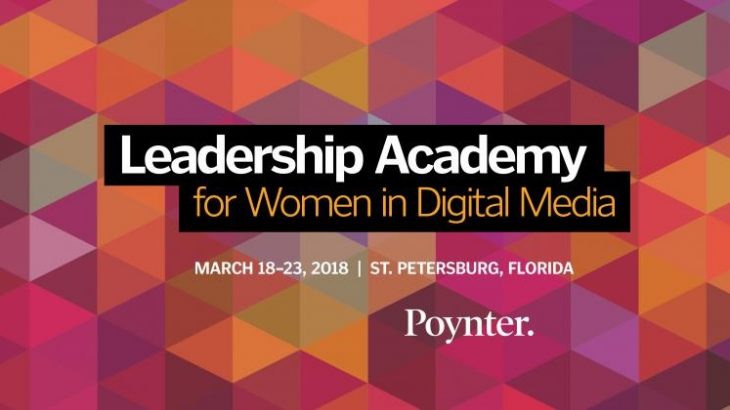 The Leadership Academy for Women in Digital Media will return to the Poynter's campus in St. Petersburg, Florida during the week of March 18-23, 2018. This program is open to twenty-eight qualified participants, and will focus on the skills and understandings necessary to be successful at the highest rankings of digital media leadership.
The program is structured to allow for open discussions and both peer-to-peer and peer-to-professional mentoring. Participants will leave the workshop with strong leadership skills and a powerful professional network. All attendees will also engage in one-on-one coaching and leadership skill creation sessions. Participants will also attend specific sessions on topics such as effective management styles, handling difficult situations, managing burnout, and negotiating.
Applicants will be selected who best represent need and diversity across race, geography, technology platforms, organizational size, and skillsets. Preference will be given to women who are currently working in digital media in a leadership capacity. Recognition will also be given to those who show a strong aptitude and potential for leadership, demonstrated through both current projects and professional references.
Tuition for the academy is free, although participants must provide all travel and accommodation costs. Some travel stipends are available, but these are competitive in nature and will not be awarded until the application process is complete.
Each applicant must submit an example of a digital project he or she has worked on, either in a group or individually. This could exist as a single story, a series of stories, an application, a website, or anything else that exists in the digital space. Digital projects may include anything the applicant has worked.
To apply, applicants should submit a record of previous work history, an example of a digital project created by the applicant, a short biography, reference letter, and personal photo. All materials must be submitted by Thursday, November 30, 2017. Questions may be directed to seminars@poynter.org.
To learn more and apply, click here.
---
Subscribe to our mailing list
In order to receive the latest updates of study and scholarship opportunities worldwide.
---
---