Institution: United Nations Office at Geneva (UNOG)
Country: Switzerland
City (Metropolitan Area): Geneva
Type of Opportunity: Trainings & Conferences
Subjects: Law
Eligibility: Between 24 and 38 years old
Start Date: July 6, 2020
End Date: July 24, 2020
Application Deadline: April 8, 2020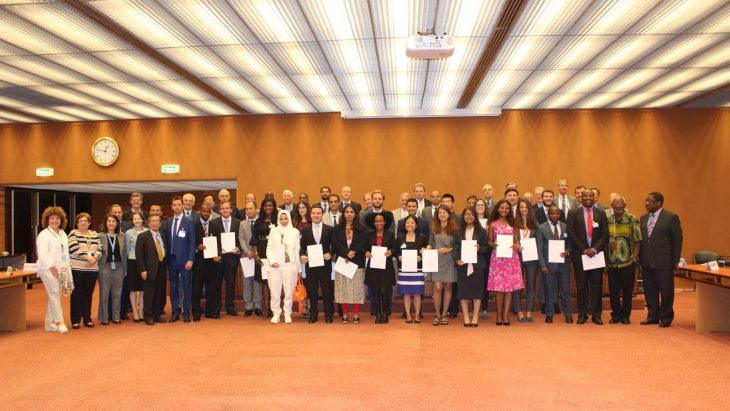 Because of the COVID-19 pandemic, this even has been canceled. For 2021 event, please visit this page later.
The United Nations Office at Geneva organized the first International Law Seminar in 1965 and continues to offer the Seminar on an annual basis to this day. The seminar was created for postgraduate students who are studying international law, as well as young scholars, lawyers in international law, and government officials. It is intended to broaden the knowledge the work of these individuals in international law, as well as to give an opportunity to candidates from different legal systems and cultures to exchange views and ideas regarding the programs of the Commission.
The International Law Seminar is only for candidates who have a sound knowledge of international law, either through their studies or professional experience. Twenty-five participants will be selected for the program, after which they will be expected to attend lectures by members of the commission or officials of the United Nations or related agencies.
To apply, candidates should submit a curriculum vitae that includes personal information as well as details about education obtained. A list of professional experiences and publications should also be supplied. A letter of motivation, between 400 and 800 words, should include a justification for engaging in the fellowship. Two letters of recommendation from official sources are also required.
The selection process will be carried out by a Selection Committee, which is comprised of two officials of the United Nations. All applications will be considered but decisions are final. Selected participants will attend the plenary meetings and lectures of the International law Commission and related speakers. They will also be invited to take part in active discussions following each lecture, producing as a final result short reports in working groups. These groups and lectures will be conducted in English, French, and Spanish.
Participation in the Seminar is free, but the United Nations cannot offer subsidies for any participant. A small number of fellowships may be available. All materials must be submitted no later than April 8, 2020. Applicants must be no younger than 24 and no older than 38 by January 1, 2020.
To learn more and apply, click here.
---
Subscribe to our mailing list
In order to receive the latest updates of study and scholarship opportunities worldwide.
---
---