Institution: Independent Social Research Foundation (ISRF)
Country: United Kingdom
Applicant Eligible Countries: Worldwide
Type of Opportunity: Awards
Study Levels: Essay
Subjects: Economics
Application Deadline: February 28, 2018
Funding: €7,000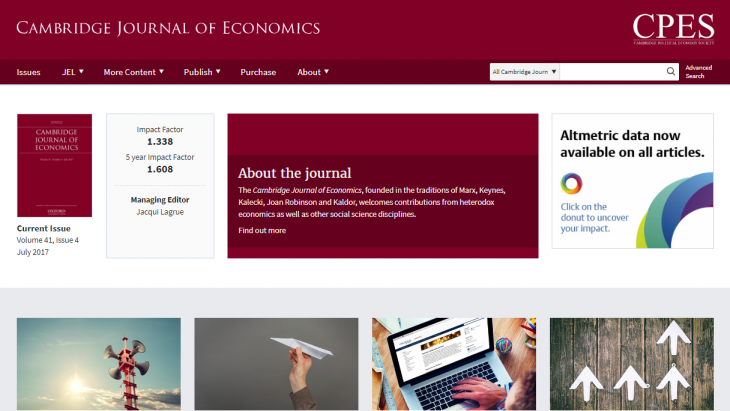 The ISRF has partnered with the Cambridge Journal of Economics (CJE) to award a prize of €7,000 for the best essay on the topic of "What is the place of Digital Information Technology in the economy?" This prize is meant to advance the ISRF's mission, which is to support independent-minded researchers to explore and present original research ideas that take new approaches and suggest novel solutions to real-world social problems.
The digital revolution has created a seismic economic shift not seen since the Industrial Revolution swept the world. As such, the impacts of digital information technologies on society and the economy are some of the most important issues of our time. These technologies have rapidly transformed capitalist production strategies and the delivery of goods and services across almost all sectors of the economy. However, the impact of such "disruption" has been uneven and generated much uncertainty. As with other capitalist revolutions in productivity, many individuals have lost jobs while a few have profited handsomely. Further, the pace of technological advancement is typically much quicker than the rate at which organizations can adapt, requiring additional time for the cultivation of relevant skills. What are the dominant trends in this area? What is really going on here? Some argue these changes herald a workless society while others argue that they represent the death thralls of late-stage capitalism. Do these arguments hold any merit? What can we learn from informed investigation and analysis? The ISRF welcome essays that address these issues or a related theme.
Your essay will be judged based on its originality and independence of thought, scholarly quality, and potential to challenge dominant ideas. A successful essay will be intellectually radical, perpendicular to existing debates, and/or express a strong critique across the fields of economic research. The essay's challenge of accepted ideas should garner a re-thinking of the topic in the audience.
The essay will be judged by an academic panel composed by the ISRF, and the winner will be decided based off unanimous support of the panel. The essay must be approximately 7,500 words, follow the CJE author guidelines, and submitted by 28 February 2018. Applicants will be notified of the essay contest's results by the end of July 2018. The winning essay will be accepted for publication in the CJE.
To learn more and apply, click here.
---
Subscribe to our mailing list
In order to receive the latest updates of study and scholarship opportunities worldwide.
---
---