Institution: Imperial College Business School
Country: United Kingdom
City (Metropolitan Area): London
Applicant Eligible Countries: Worldwide
Type of Opportunity: Scholarships
Study Levels: Graduate
Subjects: Business Administration
Start Date: September 1, 2018
Application Deadline: January 26, 2018
Funding: £51,000 to cover tuition fees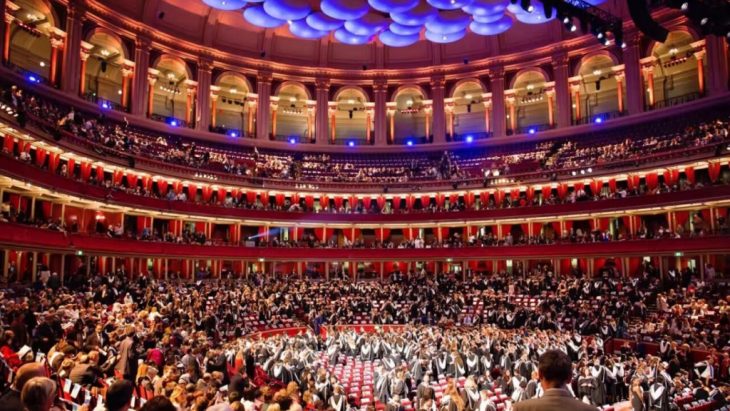 Imperial College Business School graduation at Royal Albert Hall, London
The Imperial College Business School annually offers the Advisory Board Scholarships. These prestigious awards are made possible through generous donations from the Advisory Board with the goal of providing the logistical opportunity and financial means for exceptional students to enroll in a full-time MBA course at the Imperial College Business School.
Two scholarship awards of £51,000 each are available to successful applicants planning to enroll at the Imperial College Business School in September 2018. The award covers full tuition and fees for the program, and will be granted to two qualified candidates.
Applicants should submit an MBA application and essay by January 26, 2018. Applicants must be self-funded students demonstrating exceptional academic merit and potential. They must also demonstrate significant financial need that would otherwise impair their ability to enroll in a full-time MBA at Imperial College Business School.
Applicants should also show a strong academic background and record of professional achievement. Students should submit a high, balanced GMAT score by January 26, 2018 and will also be evaluated based on performance during the admissions process. Applicants should also submit professional references from previous employers, collaborators, or professors.
Finally, a detailed essay must be submitted as well. The essay is unique to the scholarship application and should address the question: "What life experiences have shaped who you are today and how have you overcome adversity to excel in education? How do you think these experiences will help you in today's rapidly changing world?" in at least seven hundred words.
All full-time MBA applicants will be automatically considered for this award and will just need to submit the additional essay. Essays can be submitted to mba@imperial.ac.uk by January 26, 2018. The subject line should state "Advisory Board Scholarship Application" and an individual CID number.
To learn more and apply, click here.
---
Subscribe to our mailing list
In order to receive the latest updates of study and scholarship opportunities worldwide.
---
---