Institution: Árni Magnússon Institute for Icelandic Studies, The Icelandic Ministry of Education, Science and Culture, University of Iceland
Country: Iceland
City (Metropolitan Area): Reykjavik
Applicant Eligible Countries: Austria, Bulgaria, Canada, China, Croatia, Czech Republic, Denmark, Estonia, Faeroe Islands, Finland, France, Germany, Hungary, Italy, Japan, Latvia, Lithuania, Netherlands, Norway, Poland, Russia, Slovakia, Spain, Sweden, Switzerland, United Kingdom, United States
Type of Opportunity: Scholarships
Study Levels: Undergraduate
Subjects: Language
Start Date: September 1, 2017
Duration: 2 years
Application Deadline: December 1, 2017
Funding: ISK 140.000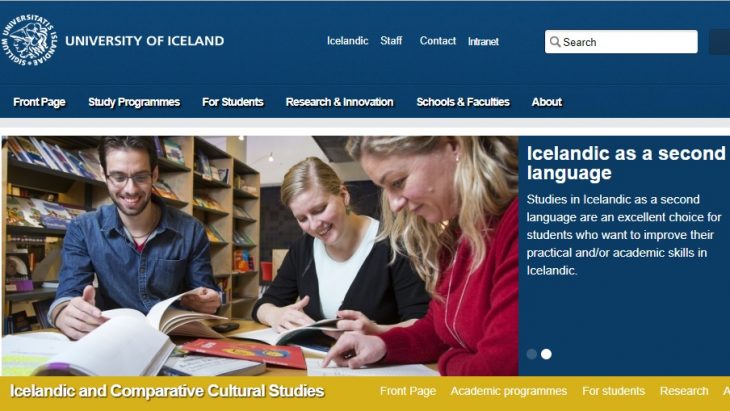 The Icelandic Ministry of Education, Science and Culture is pleased to announce the availability of fifteen scholarships for studies in Icelandic as a second language. These awards are granted for students of the modern Icelandic language who intend to study at the University of Iceland, Reykjavík. The scholarship covers registration fees as well as room and board.
Coursework consists of a combination of theory and practice. Students are trained in speaking, reading, and writing, but also in language, literature, and history. Sample coursework includes that in morphology, syntax, phonetics, old and modern literature, and the history of Icelandic dating bating to settlement. Students will also be taught how to directly translate passages.
These awards are granted in conjunction with the Árni Magnússon Institute for Icelandic Studies. Fifteen awards are available for qualified students. Awards are available for the 2018-2019 academic term to students who are in their second year or later of university study in modern Icelandic. Applicants must have prior knowledge of Icelandic (on level with courses in Icelandic Online 1 and 2). Preference is given to applicants younger than 35 years of age.
Students must be from one of the following countries: Austria, Bulgaria, Canada, China, Croatia, Czech Republic, Denmark, Estonia, Faeroe Islands, Finland, France, Germany, Holland, Hungary, Italy, Japan, Latvia, Lithuania, Norway, Poland, Russia, Slovakia, Spain, Sweden, Switzerland, United Kingdom, or the United States. Applications should be submitted directly to the Árni Magnússon Institute for Icelandic Studies, Sigurður Nordal Office, Þingholtsstræti 29, Box 1220, 121 Reykjavík, Iceland. A special application form must e completed and is available on the institute's website. A CV, transcripts, letters of recommendation, and language certification must also be submitted. The deadline to apply is December 1, 2017. Decisions will be conferred by January 2018 and successful applicants may reapply for additional awards in future years.
To learn more and apply, click here.
---
Subscribe to our mailing list
In order to receive the latest updates of study and scholarship opportunities worldwide.
---
---