Institution: Harvard University
Country: United States
City (Metropolitan Area): Boston -- MA
Applicant Eligible Countries: Worldwide
Type of Opportunity: Short-term Courses
Subjects: Leadership, Management
Price: $2,700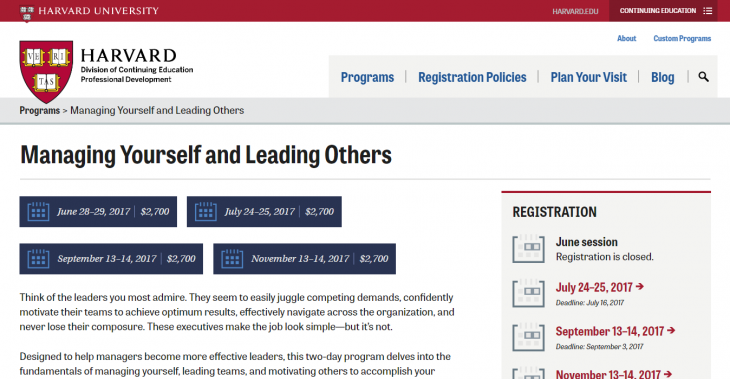 Program Dates
October 30–31, 2017
November 13–14, 2017
February 26–27, 2018
March 19–20, 2018
April 18–19, 2018
May 14–15, 2018
Michael Bloomberg, Sheryl Sandberg, and George Kaiser. What do these three individuals have in common? They all attended Harvard Business School and have built a reputation for their leadership skills – skills which have contributed to their personal success and the success of those around them. You, too, can benefit from the school's expertise in management development through Harvard's two-day course called Managing Yourself and Leading Others.
Offered through Harvard's Division of Continuing Education and Professional Development, the program is designed to develop your leadership skills by exploring the fundamentals of managing yourself, leading teams, and motivating others to accomplish your company's goals. The course promises to improve your performance by developing your managing skills. This means you will be able to manage your team, boss, and colleagues more effectively, and you will develop a management style that suits your personality. Finally, after your two days of study, you will be better equipped to handle tough situations and have more confidence in your decisions.
The course covers various topics in the area of business management. During the two days of study, you will debunk popular management myths and learn tried and true leadership skills. You will also learn how to better understand what motivates your colleagues and competitors. The course covers lessons on how to recognize both strengths and weaknesses in yourself and others. You'll build emotional intelligence and communicate more effectively, which will help you earn trust and build relationships. Other lessons contained within the course include influencing others with or without authority, managing within organizational hierarchies, and how to lead for long-term results.
These topics will be taught through reading assignments, case studies, and introspective exercises. Within just two days, you will be challenged and pushed in class as you grapple with complex situations which do not lend themselves to easy solutions. Naturally, that is the point of successful managers, and you will leave the course with increased confidence and a plan of action to continue your professional and leadership development.
The program has been crafted by Harvard instructors especially for anyone who wants to become a better leader, whether you're new to management or a seasoned veteran. Each day of the program, you will be in session from 9:00 am to 5:00 pm. The June session is already sold out, but the course will also be offered in July, September, and November. The cost for attendance is $2,700.
To learn more and apply, click here.
---
Subscribe to our mailing list
In order to receive the latest updates of study and scholarship opportunities worldwide.
---
---