Institution: Harvard University
Country: United States
City (Metropolitan Area): Boston -- MA
Applicant Eligible Countries: Afghanistan, Bangladesh, Bhutan, India, Myanmar, Nepal, Pakistan, Sri Lanka
Type of Opportunity: Scholarships
Study Levels: Mid-career
Subjects: Art
Academic Year: 2017-2018
Application Deadline: July 17, 2017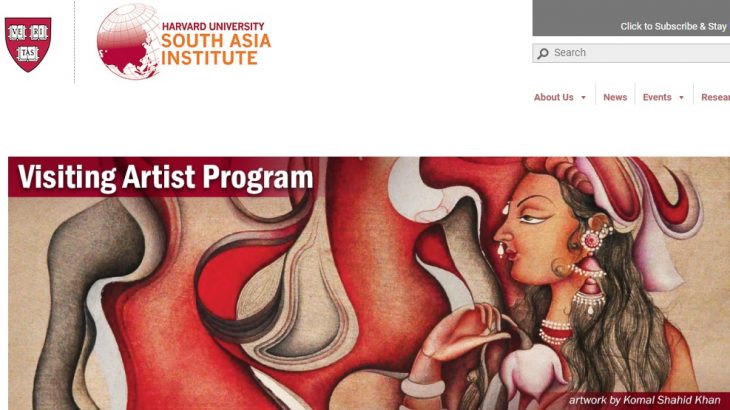 Emerging and mid-career artists are encouraged to apply to be visiting artists at the Harvard University South Asia Institute's Arts Program. The program is intended to explore critical issues in South Asia through art and design. Applicants who are chosen to be visiting artists will attend Harvard University to engage in interdisciplinary conversations with students and faculty about global issues relevant to South Asia.
Only four artists will be chosen each academic year, and the residency lasts two months at Harvard University in Cambridge, MA. Two of the artists will attend during the fall semester, and the other two will attend for the spring semester. During the residency, the Institute will develop events and exhibits with various faculty members across different departments which coordinate with undergraduate curricula. If selected, you will be required to host an open studio exhibition, where you will show either a work in progress or a completed project. You must also be prepared to give a presentation about your practice and approach to your craft.
The visiting artists program is funded, and recipients will receive a stipend to cover exhibit-related costs, as well as cultural excursions in the New England area. Additionally, your travel, living accommodations for the two-month residency, and meals will be covered by the Institute.
The South Asian Institute has eligibility requirements for potential applicants, with some applicants receiving special consideration for various reasons. First, the basic requirements. You must be a South Asian artist, and you can work in any medium, as long as your practice is a response to sociopolitical developments in that region. To be considered a South Asian artist, you must reside in that region (i.e., Afghanistan, Bangladesh, Bhutan, India, Myanmar, Nepal, Pakistan, or Sri Lanka), and you must hold a valid passport with eligibility for the appropriate visa. The Institute is specifically interested in engaging with artists from countries with less representation on Harvard's campus, so preference will go to artists from Afghanistan, Bangladesh, Bhutan, Myanmar, Nepal, Pakistan, or Sri Lanka. Additionally, artists whose proposals directly relate to the Institute's research foci will receive preference. You can apply if you do not have professional training from an accredited institution, but those with formal training will receive preference during the application vetting.
The visiting artist program is intended for emerging and mid-career artists who have had limited opportunities to exhibit or work abroad, which means more accomplished artists need not apply. Those who are selected for the residency will benefit from connections with Harvard faculty and students while exhibiting their work in an internationally recognized venue.
To apply for the visiting artists program, you will have to complete an online application, submit your resume/CV, and provide a written personal statement. The personal statement must be no longer than two pages and should outline your project proposal, including how it would benefit from being hosted at Harvard, which departments and faculty would be helpful for your research, and whether you would need access to the Harvard Art Museums' collections. You will also need to submit a work portfolio and two recommendation letters. The application deadline for the 2017-2018 academic year is July 17th, 2017.
If you meet the eligibility requirements and are prepared to spend two months living and working at one of the world's most renown universities, then this visiting artist program is right for you.
To learn more and apply, click here.
---
Subscribe to our mailing list
In order to receive the latest updates of study and scholarship opportunities worldwide.
---
---