Institution: Harvard University
Country: Italy, United States
City (Metropolitan Area): Boston -- MA, Florence
Type of Opportunity: Fellowships
Study Levels: PhD
Subjects: Art
Eligibility: Available for Harvard PhD students
Academic Year: Fall Fellow September 1 - December 21. Spring Fellows January 7 - June 30.
Funding: $12,000 for fall fellows; $18,000 for spring fellows; $1,500 relocation supplement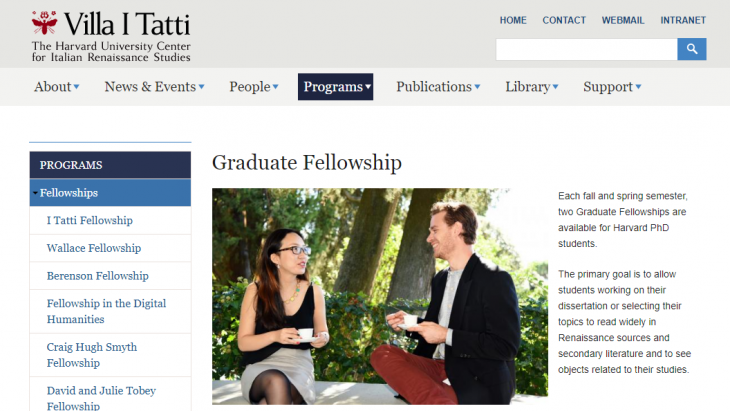 Villa I Tatti (Harvard's Center for Italian Renaissance Studies) is accepting applications for two graduate fellowships. One fellowship will be for the fall semester (September through December), and the other will be for the spring semester (January through June). The graduate fellowship is designed to grant students who are working on their dissertation or picking their research topic(s) the chance to read extensively in Renaissance sources and secondary literature and examine objects relevant to their studies.
I Tatti's fellowship affords graduate students the time they need to pursue their research with as few obligations and interruptions as possible while providing access to a trove of scholarly resources. Fellows will live in Florence, Italy and are expected to spend at least three days a week at the center. I Tatti is home to the Berenson Library, which offers one-of-a-kind collections for Italian Renaissance scholars. The Berenson Library is also part of the Harvard library system, which means fellows will have access to online journals and all other electronic resources they have come to expect from academic libraries.
The center regularly hosts stimulating scholarly talks, and as a fellow, you are granted access to these dynamic, engaging encounters. Such events include exploratory seminars, workshops, tours of exhibitions and cultural institutions, conferences, lectures, and even concerts.
You must meet certain criteria to be eligible to apply:
First, you must be a current doctoral student enrolled at Harvard University.
Second, you must possess an interest in the Italian Renaissance, which the center defines as the period between the 14th and 17th centuries and the geographic area including Italy and its transnational dialogues (i.e., Latin American, Mediterranean, African, Asian, etc.).
However, applications will also be accepted from students who are exploring the impact of the Renaissance on the modern era. All disciplines supported by the center are eligible for the fellowship, including the arts, history, philosophy, literature, music, and history of science. Finally, you must be familiar with Italian, but fluency is not required.
The stipend for the fellowships is $12,000 for fall fellows and $18,000 for spring fellows. There is also a one-time supplement for relocation expenses (maximum $1,500). Housing is not provided, but each fellow does get their own library carrel and desk. In addition, fellows are prohibited from taking on any obligations outside of I Tatti during the fellowship period.
To apply, you will need a nomination letter from your doctoral advisor. To learn more about the Harvard University Center for Italian Renaissance Studies, the fellowship, and how to apply, click here.
To learn more and apply, click here.
---
Subscribe to our mailing list
In order to receive the latest updates of study and scholarship opportunities worldwide.
---
---