Institution: Harvard University
Country: United States
City (Metropolitan Area): Boston -- MA
Applicant Eligible Countries: Worldwide
Type of Opportunity: Summer Schools
Study Levels: High School / Secondary School
Eligibility: At least 15 years old by December 1, 2018 and not be turning 20 years old before July 31, 2019
Early Action Deadline: February 1, 2019
Application Deadline: May 6, 2019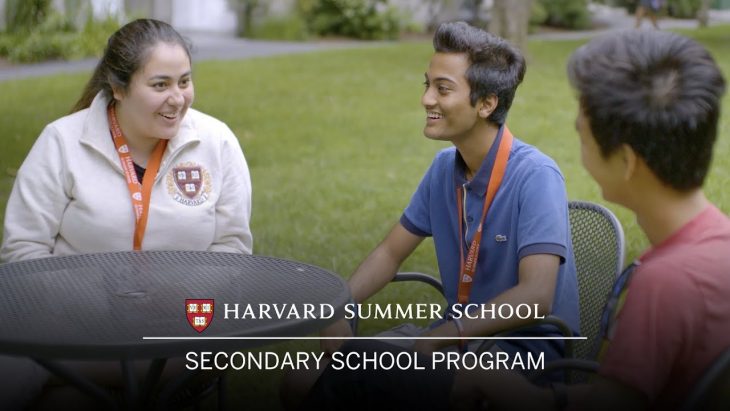 Each year, the Harvard Summer School – Secondary School Program offers exceptional and academically motivated students the opportunity to engage in a dynamic living and learning opportunity on the Harvard University Campus. This year, the admissions committee is seeking students who will graduate from high school and begin their college training in 2019, 2020, or 2021.
To be eligible, all candidates must be at least 15 years old by December 1, 2018 and not be turning 20 years old before July 31, 2019. Although no fee is required to initiate the application process, a nonrefundable fee is required to submit the form. Before beginning the application process, each student should carefully select the program in which they are interested. Harvard offers two programs to high school students: the Secondary School Program and the Pre-College Program. Therefore, it is important to be vigilant about which option is preferred and selected during the application completion process.
To apply, interested candidates should complete an online application and provide all required supplemental materials. This includes a nonrefundable application fee of $75, as well as a counselor report which can be completed via a link in the online application. Transcripts from ninth grade to the fall of 2018 are also required, including documents like report cards, educational summaries, and progress reports. Students who do not speak English as a native language should also supply scores from the TOEFL iBT or IELTS proficiency exam along with the online application.
After submitting an application, candidates should watch their email inboxes carefully. After the application has been submitted, individuals will receive an email asking them to log in to check their application status about three weeks later. Admissions decisions may only be applied to the summer term to which the application was originally submitted. No deferrals are available.
The application process is highly selective, and decisions are rendered on a rolling and first-come, first-served bases. Although there is no GPA requirement, all information submitted is considered a valuable part of the decision-making process. All materials must be submitted no later than Friday, February 1 for financial aid eligibility, with all other applications due by May 6. International students should apply by Monday, April 23 and should keep in mind that an F-1 student visa will be required to study on campus.
To learn more and apply, click here.
---
Subscribe to our mailing list
In order to receive the latest updates of study and scholarship opportunities worldwide.
---
---