Institution: Harvard Business School
Country: United States
City (Metropolitan Area): Boston -- MA
Applicant Eligible Countries: Worldwide
Type of Opportunity: Degree
Study Levels: Graduate
Subjects: Business Administration
Eligibility: A 4-year undergraduate degree or its equivalent
Academic Year: 2018 - 2019
Application Deadline: September 6, 2017
Price: $72,000

The Harvard Business School invites qualified applicants to apply for the upcoming 2018-2019 academic year. Applicants must possess a four-year undergraduate degree at an accredited United States college or university. Students who are college seniors may also apply to the 2+2 program. International students may meet this requirement through a three-year bachelor degree program.
Candidates must also take the Graduate Management Admission Test (GMAT) or Graduate Record Examination (GRE). As a component of the GMAT exam, students are required to complete both the AWA portion and the Integrated Reasoning portion. Non-native English speakers must also submit results from the TOEFL, IELTS, or PTE.
In addition to the above requirements, applicants should submit a written application that includes official college transcripts. Although the Admissions Board carefully reviews each student's GPA, they will also take into consideration the school that was attended, courses attempted, and overall performance.
In an effort to better understand its incoming class, the Harvard Admissions Board also requires students to complete an essay addressing the question: what more would you like us to know as we consider your candidacy for the Harvard Business School MBA program? There is no word count requirement for this question. If you are applying jointly for the Harvard Medical School, Harvard School of Dental Medicine, Harvard Law School, or Harvard Kennedy School, you must answer an additional question in roughly 400 words: how do you expect the joint degree experience to benefit you on both a professional and personal level?
Students must also submit two recommendations attesting to personal qualities, skills, performance, and background. Questions, along with the appropriate recommendation form, can be supplied to your recommenders on the application's website. Additionally, applicants should submit an updated business resume or CV and a nonrefundable application fee of $250.
After your application has been reviewed, you may be invited to interview. The interview does not guarantee admission but does indicate that you are among a final review. Interviews may be conducted on-campus, over the phone, or through Skype. They are roughly thirty minutes long and require each candidate to submit a written reflection after completion.
All application materials should be received according to the following timetables:
Round 1 Application Period: September 6, 2017
Round 2 Application Period: January 3, 2018
Round 3 Application Period: April 2, 2018
Questions about the program or admissions process may be directed to the MBA Admissions Office at 1 (617) 495-6128 or admissions@hbs.edu.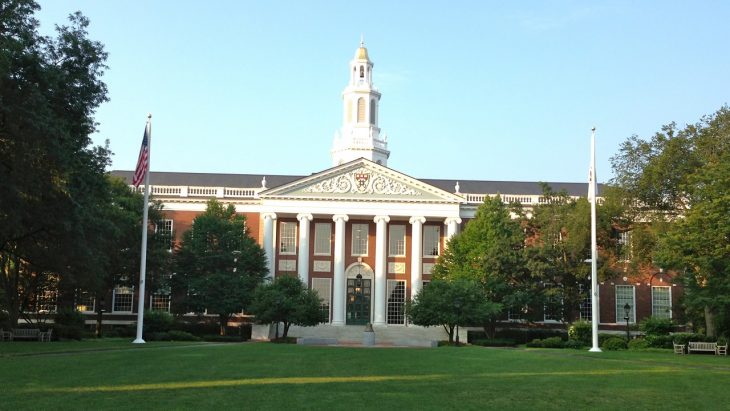 To learn more and apply, click here.
---
Subscribe to our mailing list
In order to receive the latest updates of study and scholarship opportunities worldwide.
---
---