Institution: Google
Country: United States
Applicant Eligible Countries: United States
Type of Opportunity: Scholarships, Short-term Courses
Study Levels: Non Degree
Subjects: Computer Programming
Eligibility: Must be at least 18 years old and resident of the U.S.
Start Date: January 10, 2018
Application Deadline: December 31, 2017
Regular Applications Decision Notifications: January 10, 2018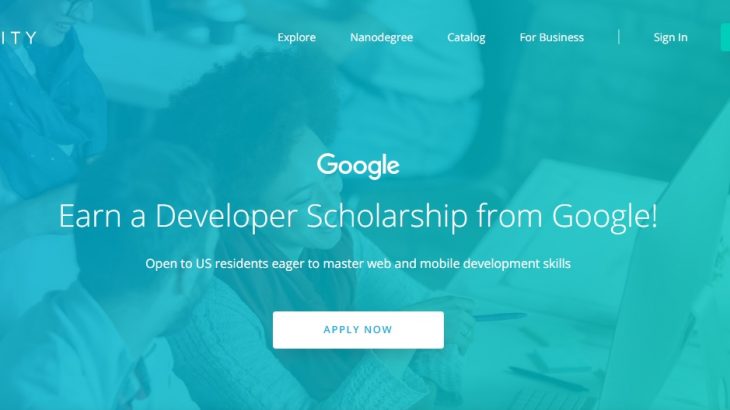 Google invites United States residents who are eager to master web and mobile development skills to apply for their prestigious Developer Scholarships. These scholarships allow students to learn valuable skills to launch or advance their careers as mobile or web developers. The curriculum is developed by experts from Google and Udacity and allows students to excel in a rapidly growing community of developers across the country.
Applicants must be at least eighteen years old and residents of the United States. Students may choose from either a Web Developer or Android Developer track. Once students have applied and selected a learning path (and, of course, accepted to the program), they will be placed in either a Beginner or Intermediate training track. Top students in each track will earn full scholarships to Android or Web Development Nanodegree programs.
There are twenty-five thousand seats available in the web developer track. No programming experience is required, and students will engage in a three-month program with access to Intro to HTML + CSS with support from Udacity mentors. Students will learn how to design and build stunning, engaging websites. The top 1,500 students from this program will be awarded scholarships.
In the mobile developer track, students will receive a three-month training in Android basics. They will learn how to build Android apps and learn Java development. Again, the top 1,500 students will be awarded scholarships to the more intensive six-month study program.
The application process takes only about ten minutes. All applicants, regardless of experience level or track, will complete the same application. Training in this program, as well as the application process, all takes place entirely online.
All applications are due November 30, 2017. Recipients will be notified December 7 2017 and the program begins on December 11, 2017. Questions about the application process or program may be directed to scholarships-support@udacity.com.
To learn more and apply, click here.
---
Subscribe to our mailing list
In order to receive the latest updates of study and scholarship opportunities worldwide.
---
---