Institution: George Washington University
Country: United States
City (Metropolitan Area): Washington -- DC
Applicant Eligible Countries: Antigua and Barbuda, Armenia, Azerbaijan, Belarus, Belize, Bulgaria, Cambodia, China, Croatia, Czech Republic, Dominica, Georgia, Guatemala, Honduras, Hungary, Kyrgyzstan, Laos, Latvia, Mongolia, Poland, Romania, Russia, Saint Lucia, Serbia, Slovakia, Slovenia, St Vincent and the Grenadines, Tajikistan, Turkmenistan, Ukraine, Uzbekistan, Venezuela
Type of Opportunity: Fellowships
Study Levels: Doctoral, Graduate
Eligibility: Not studied or worked in the U.S. Must have an F-1 (J-1 visa for Fulbright applicants only).
Start Date: April 6, 2018
Academic Year: 2018 - 2019
Application Deadline: February 5, 2018
Funding: Cover up to 18 credit hours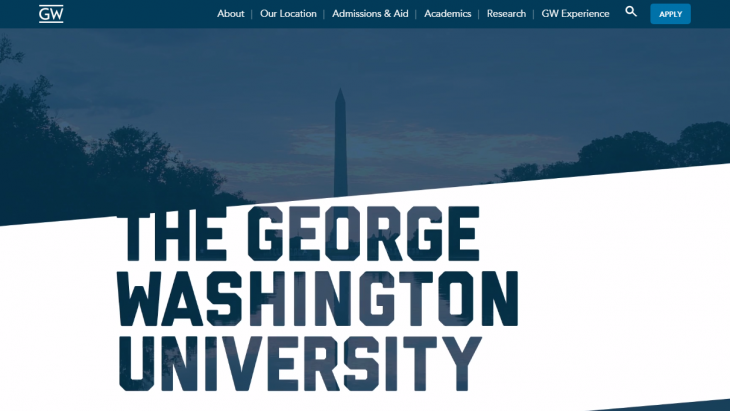 The Office of Graduate Student Assistantships and Fellowships at George Washington University invites incoming graduate students to apply for the Global Leaders Fellowship. The award will cover tuition for up to 18 credit hours a semester (separate from living expenses, books, and other fees). The fellowship is renewable each year for up to three years for Master's students and five years for doctoral candidates. Summer session awards are also possible, subject to funding availability and at the personal petition by the candidate.
The mission of this award is to develop graduate students who will become leaders in their fields within their home country upon graduation. It is designed for students who have not previously studied or worked in the United States (or any other countries besides their home country). Ideally, this award will allow students to return to their native countries and be able to apply leadership skills obtained through their formal education at George Washington.
Only students holding or in the process of obtaining an F-1 visa are eligible to apply. Students must be from one of the following countries or regions: China, Cambodia, Eastern Europe, Laos, Latin America, the Caribbean, Mongolia, Sub-Saharan Africa, U.S.S.R. successor states, or Vietnam. Additionally, graduate students from Foggy Bottom on-campus programs are eligible within the following schools: College of Professional Studies, Columbian College of Arts and Sciences, Elliot School of International Affairs, Graduate School of Education and Human Development, School of Business, and School of Engineering and Applied Science. Students within the Executive Education program are not eligible to apply.
Students must have already applied for Fall 2018 admission to a master's or doctoral program at George Washington University. Students who have not yet applied and been accepted will not be considered. Current graduate students at the university may not apply. The deadline to apply for the award is February 5, 2018. Students must maintain a grade point average of 3.0 or better while obtaining one degree only. Interested students may apply through George Washington's online submissions portal. Awards will be announced in April 2018.
To learn more and apply, click here.
---
Subscribe to our mailing list
In order to receive the latest updates of study and scholarship opportunities worldwide.
---
---