Institution: Carnegie Corporation of New York, Kennan Institute, Woodrow Wilson International Center for Scholars
Country: United States
City (Metropolitan Area): Washington -- DC
Applicant Eligible Countries: Worldwide
Type of Opportunity: Fellowships
Subjects: Business, Governance, Law, Media
Duration: 3 months
Application Deadline: September 1, 2020
Funding: Monthly stipend of $4,000, research facilities, and computer access.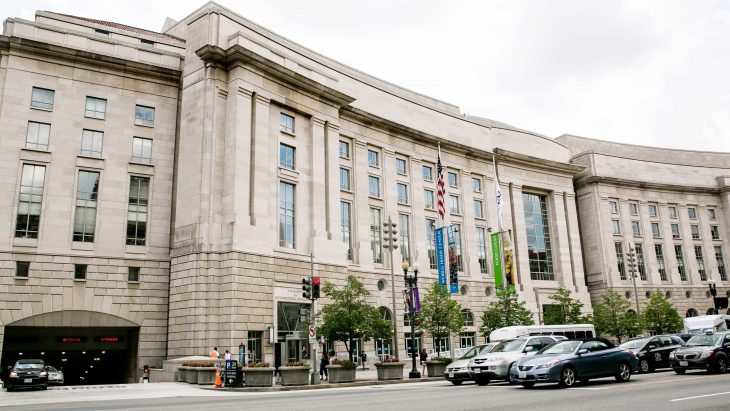 Ronald Reagan Building and International Trade Center
The Kennan Institute has issued a call for applicants to a program scholarship at the Wilson Center. The Institute is in search of applicants who represent policy-oriented sectors like law, academia, civil society, business, media, and local government. Applicants should have diverse backgrounds and be willing to engage in inquiry and discussion but the political, cultural, economic, social, and historical issue at play in Ukraine, Russia, and the surrounding region.
The goal of this fellowship is to encourage discussion between the policy-making world and traditional academics, as well as to enhance collaboration among researchers from Ukraine and Russia along with the United States. These programs are funded by a grant from a Carnegie Corporation of New York.
Fellows will be housed at the Wilson Center in Washington, D.C. for a total period of three-month residencies. All fellows will receive full access to the region's resources, such as the National Archives, various policy research centers, and the Library of Congress. Daily activities will include meetings with experts and officials at locations such as Congress, the Department of Defense, USAID, and the State Department.
In exchange, fellows will engage directly with other fellows and officials, and will participate in key speaking arrangements at the Wilson Center as well as those outside of the city. Fellows must also attend conferences, meetings, and activities facilitated by the Kennan Institute and participate in collaborative activities when they are alumni of the program.
There are no requirements in regards to citizenship, but applicants may choose to apply as part of a team. If applying as a team of two or more applicants, each applicant must be a citizen of a different country. These joint fellowships will help promote international collaboration. Teams are responsible for producing joint papers, presenting their work, and conduct meeting with policymakers in the city.
Fellowship competitions are held twice a year, with application deadlines on September 1 and March 1, respectively. All applicants must submit an application to be considered for the competition. Successful fellows will receive monthly stipends of $4,000 along with full access to computer and research facilities. They will be expected to remain in Washington, D.C. for the duration of the grant and will begin their residences within six months of accepting the award.
To learn more and apply, click here.
---
Subscribe to our mailing list
In order to receive the latest updates of study and scholarship opportunities worldwide.
---
---