Institution: Fulbright Program
Country: Austria, Belgium, Bulgaria, Croatia, Cyprus, Czech Republic, Denmark, Estonia, Finland, France, Germany, Greece, Hungary, Ireland, Italy, Latvia, Lithuania, Luxembourg, Malta, Netherlands, Poland, Portugal, Romania, Slovakia, Slovenia, Spain, Sweden, United Kingdom
Applicant Eligible Countries: United States
Type of Opportunity: Grants
Study Levels: Doctoral, Graduate, Undergraduate
Subjects: Agriculture, Energy, Environmental Policy, European Union, Finance, Human Rights, Trade
Start Date: September 1, 2018
End Date: June 30, 2019
Duration: 6 - 9 months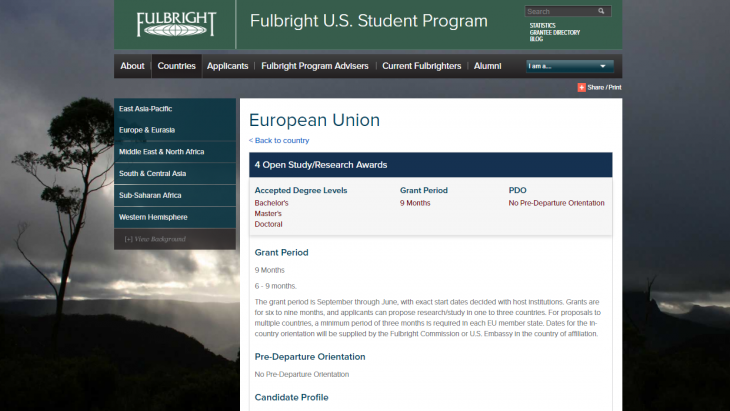 The Fulbright U.S. Student Program awards several grants to United States students and young professionals to study and/or conduct academic research at universities within EU Member States. Topics of study must include EU policies, EU institutes and the American-European Union agenda. Grants are available for students with Bachelor's, Master's, or Doctoral degrees.
Four total awards are available, for a grant period of six to nine months. The grant will last from September through June, with specific start dates negotiated directly with host institutions. Applicants may propose an area of research or study in one to three different countries. If a student is interested in studying in multiple countries, at least three months must be required in each European Union member state. The orientation date for the program will be supplied either by the Fulbright Commission or by the United States Embassy in the country of research.
To apply, students should submit a project proposal that focuses on the observation of comparative perspectives of issues of concern. These issues should be ones that involve both the United State and the European Union, such as:
internal and external security
peace-keeping
the EU and NATO
justice and home affairs
finance
trade
human rights
agricultural and environmental policies
energy
asylum
human trafficking
development
EU enlargement
Other topics may also be accepted. Proposals should relate to EU competencies and not simply Europe or countries within Europe. There should be a holistic value to the project. Successful applicants will exhibit personal, academic, and creative excellence, along with a strong research rationale and plan. They will be strong leaders and clearly indicate how their studies will benefit American-European Union relationships during and after their grant periods.
Applicants should be proficient in the language of their chosen country, though this is not a mandatory component of the application process. TO apply and for more information, students should visit http://www.fulbrightschuman.eu.
To learn more and apply, click here.
---
Subscribe to our mailing list
In order to receive the latest updates of study and scholarship opportunities worldwide.
---
---