Institution: Charles University in Prague, Dublin City University, Erasmus Mundus, OTH Regensburg, University of Glasgow
Country: Czech Republic, Germany, Ireland, United Kingdom
City (Metropolitan Area): Dublin, Glasgow, Prague, Regensburg
Applicant Eligible Countries: Worldwide
Type of Opportunity: Scholarships
Study Levels: Graduate
Subjects: Security and Intelligence
Duration: 2 years
Academic Year: 2018 - 2019
Application Deadline: January 26, 2018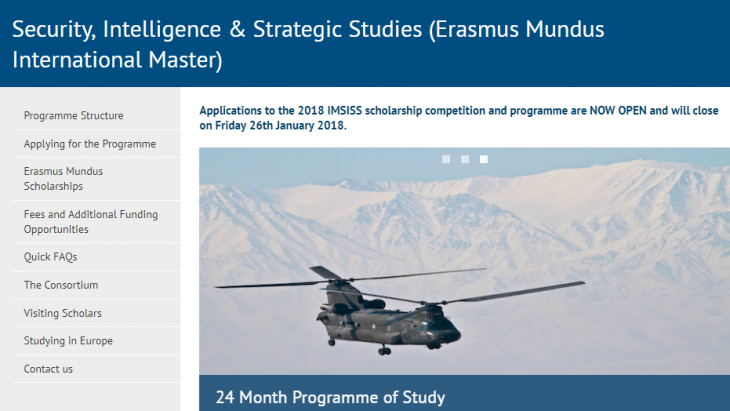 The founders of the International Master in Security, Intelligence and Strategic Studies program invite students to apply to the ISMISS scholarship competition, which will close on Friday, January 26th, 2018.
This program was developed by a coalition of four European universities, including Charles University in Prague, Dublin City University in Ireland, the University of Glasgow in the UK, and the OTH Regensburg in Germany. This program allows students to inquire into a broad range of modern security challenges. These might include topics of terrorism, mass migration, energy supply, cyber security, and civil war and conflict, among others. Students will also research the intelligence and strategic defense approaches utilized by governmental and non-governmental partners to react to and combat against these threats.
This program combines theory and application to help students develop critical skillsets. Students will work alongside a range of researchers and scholars from a wide variety of international partner universities and think tanks. They will also interact with practitioner experts from government and industry security sectors.
The program will commence in September 2018 and last for two years. Students will study full-time and attend small group seminars and lectures. They will engage in a variety of assessment methods, including written assignments, group work, dissertation, and oral examination. Students will encounter a wide range of international security problems, and will be prepared to meet the growing demand for these sorts of professionals. Experts are needed by both the United Nations as well as individual nation states to be able to expertly react to modern threats and challenges.
All program applicants should indicate if they would also like to be considered for a self-funded place in the program if there are additional spots left. If this is the case and a student is accepted, a £1000 deposit will be required to secure a self-funded place. For more information and to apply, interested students should visit gla.ac.uk.
To learn more and apply, click here.
---
Subscribe to our mailing list
In order to receive the latest updates of study and scholarship opportunities worldwide.
---
---