Institution: University of California Berkeley
Applicant Eligible Countries: Worldwide
Type of Opportunity: Online Courses
Study Levels: Non Degree
Subjects: Psychology
Start Date: September 4, 2017
Duration: 8 weeks
Price: FREE. Add a Verified Certificate for $49.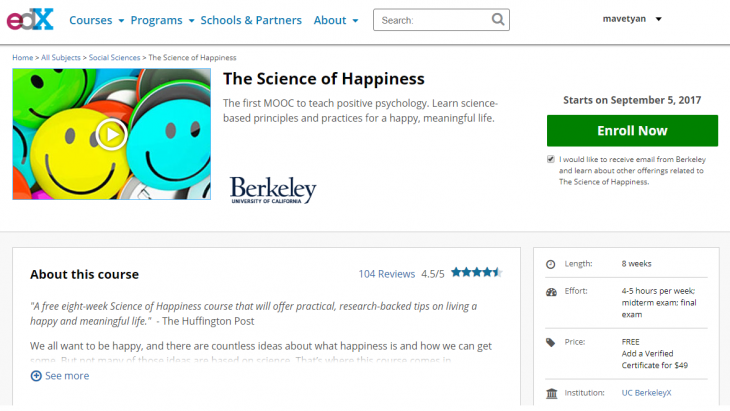 Who doesn't want to be happy? There are plenty of self-help books and so-called experts who promise us the "secret(s)" of happiness. But how much of what they offer is backed by science and high quality research? In "The Science of Happiness," a Massive Open Online Course (MOOC) offered by the University of California Berkeley, you will learn about the ground-breaking science of positive psychology. This cutting-edge, interdisciplinary field explores the roots of what it means to live a happy and meaningful life and how to achieve it. As a student in the course, you will engage with practical lessons from this field and learn how to use research-supported strategies in your own life to foster happiness. The course's main lesson is this: That happiness is inextricably linked to having strong social connections and contributing to something bigger than yourself. You will be exposed to ideas from psychology, neuroscience, evolutionary biology, and others which have supported the science behind positive psychology.
Most importantly, the course provides students with practical strategies for nurturing their own happiness. You will get to try several research-backed activities to foster social and emotional well-being and identify how your happiness changes as the course progresses.
The main instructors for the course are Drs. Dacher Keltner and Emiliana Simon-Thomas – leading authorities in the field of positive psychology who strive to make the coursework fun and personal. Throughout the course, they will occasionally be joined by guest experts, including Barbara Fredrickson, Paul Ekman, Sonja Lyubomirsky, and John Kabat-Zinn. The class will discuss themes such as empathy, mindfulness, and gratitude.
"The Science of Happiness" begins 4 September 2017 and lasts eight weeks. It is free to attend, but if you desire a Verified Certificate for successfully completing the class, then you will have to pay $49. Health professionals can take this class and earn continuing education credits for their participation. Watching the lectures and completing the assignments will take approximately four to five hours each week, and you will be given two exams: a midterm and a final. To learn more about the course, read student reviews, and register, click here.
To learn more and apply, click here.
---
Subscribe to our mailing list
In order to receive the latest updates of study and scholarship opportunities worldwide.
---
---