Institution: Dartmouth College
Country: United States
Applicant Eligible Countries: Worldwide
Type of Opportunity: Fellowships
Study Levels: Post-Doctoral
Subjects: Business, Engineering, Humanities, Medicine, Social Sciences
Eligibility: Recent Ph.D. graduates
Academic Year: 2018-2021
Application Deadline: September 18, 2017
Funding: Stipend of $4,600 per month, plus benefits, plus a $5,000 per year for computing.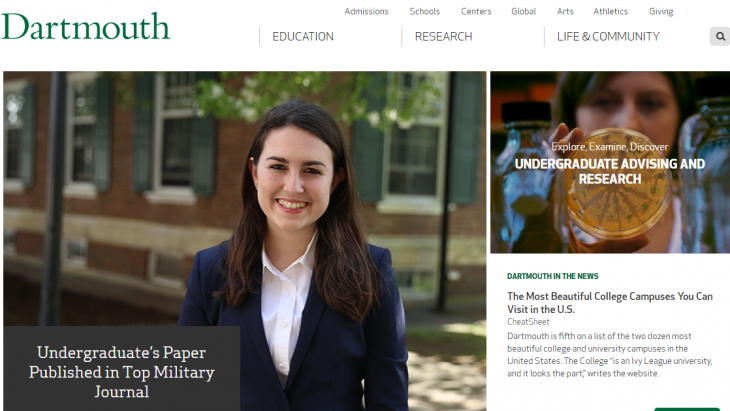 Dartmouth College is accepting applications for its Junior Fellows program. Junior Fellowships are designed to support the academic careers of freshly-minted Ph.D. scholars. The fellowship allows them three years to pursue their research agenda while benefitting from mentors and gaining experience as teachers and department members. Applicants should be ready to start their next post-doctoral project, and they will be accepted from various fields, including humanities, social sciences, interdisciplinary programs, sciences, engineering, business, and medicine.
The responsibilities and benefits of Junior Fellows are quite extensive. Fellows will be expected to participate in the Junior Fellow Society, which includes presenting their research and scholarship. Fellows will also be appointed as non-tenure-track Lecturers in a department/program wherein they will teach two courses for the duration of the three-year fellowship, but they will not be asked to teach basic language courses. They will also receive teacher training through the Dartmouth Center for the Advancement of Learning (DCAL). Fellows will be kept in residence for the fall, winter, and spring terms, but off-campus research leave is permitted in rare cases. Fellows will have access to college resources such as the school's library and computing center, but they will not control dedicated laboratory or studio space.
The fellowship typically lasts 34 months, beginning September 1 and ending June 30 of the final year. The monthly stipend is $4,600 plus benefits along with $5,000 each year to support computing, travel, and research needs. The Society of Junior Fellows coordinates with departments to provide appropriate office space and other research needs, but such resources are ultimately at the discretion of each department.
To apply for the 2018-2021 class of Junior Fellows, you must have completed your Ph.D. no earlier than January 1, 2016 and have your degree in hand by June 30, 2018. Applications can be completed online, and they must be submitted by 18 September 2017. The applications should identify at least one Dartmouth faculty member whose research is relevant to your own, and the application pack must include: a cover sheet, a personal statement (1,500-word limit), a statement answering the question "After reviewing your opportunities at Dartmouth, what can Dartmouth do for you and what do you think will be the most productive aspect of your interactions with Dartmouth faculty and students?" (500-word limit), a statement outlining your scholarly agenda (500-word limit), a curriculum vitae, three recommendation letters, and academic transcripts.
To learn more and apply, click here.
---
Subscribe to our mailing list
In order to receive the latest updates of study and scholarship opportunities worldwide.
---
---