Institution: Stanford University
Country: United States
City (Metropolitan Area): San Francisco Bay Area -- CA
Applicant Eligible Countries: Worldwide
Type of Opportunity: Fellowships
Subjects: Security and Intelligence
Academic Year: 2018 - 2019
Application Deadline: January 15, 2018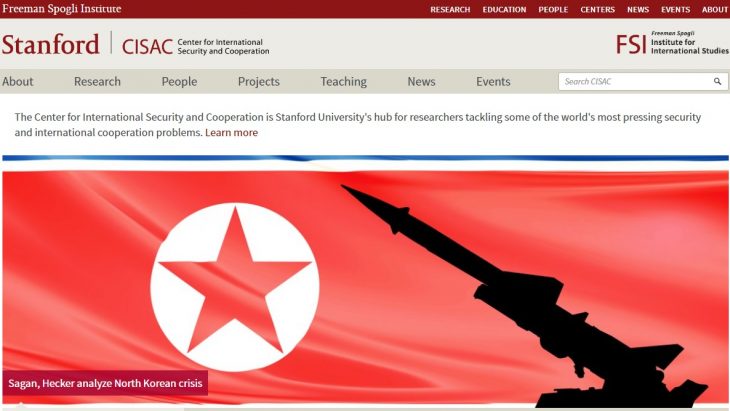 The Center for International Security and Cooperation (CISAC) is devoted to research, teaching, and training the next generation of security specialists, influencing policymaking in international security, and developing a more informed public discussion. 
The Center expands opportunities for scholars and professionals to explore more complex international problems and innovative solutions in a collegiate and collaborative environment.
CISAC fellows will focus on many topics including but not limited to: nuclear weapons policy and nonproliferation; nuclear energy; cybersecurity, cyberwarfare, and the future of the Internet; biosecurity and global health; implications of geostrategic shifts; insurgency, terrorism, and homeland security; war and civil conflict; consolidating peace after conflict; as well as global governance, migration, and transnational flows, from norms to criminal trafficking. Other research proposals on international security topics are welcomed and encouraged.
CISAC encourages applications from women, minorities and citizens of all countries who have backgrounds in academia, public policy, mid-career professionals in the law, the military, government, or international organizations. Applications for the 2018-2019 academic year are due by January 15, 2018.
CISAC residential fellows will produce a finished piece of writing that may differ depending on the level of study – dissertations, articles, and manuscripts, as examples. Fellows are expected to be in residence during the fellowship, and to participate in research seminars and collaborations with colleagues, senior researchers, and faculty.
CISAC offers numerous fellowships and applicants will be considered for all for which they are eligible including in social sciences or humanities international security, natural sciences or engineering international security, cybersecurity and international security, law and international security, nuclear security, and the William J. Perry Fellowship in International Security. In addition, the John and Jackie Lewis Fund to Support Research on Asia is available to support research by pre- and postdoctoral fellows, the Freeman Spogli Institute for International Studies (FSI), and the Shorenstein Asia-Pacific Research Center (APARC), as well as Stanford graduate students, on matters related to Asia. 
For more information about fellowships, please contact:
Marisa MacAskill
CISAC Fellowship and Student Programs Manager
Stanford University
Encina Hall, C235
616 Serra Street
Stanford, CA 94305-6165
Email: CISACfellowship@stanford.edu
To learn more and apply, click here.
---
Subscribe to our mailing list
In order to receive the latest updates of study and scholarship opportunities worldwide.
---
---