Institution: Stanford Graduate School of Business
Country: United States
City (Metropolitan Area): San Francisco Bay Area -- CA
Applicant Eligible Countries: Worldwide
Type of Opportunity: Degree
Study Levels: Graduate
Subjects: Business
Early Action Deadline: August 18, 2018
Application Deadline: January 10, 2019
Early Action Decision Notifications: December 13, 2018
Regular Applications Decision Notifications: March 28, 2019
Price: $115,797-$136,014 for a first-year MBA student for the ten-month academic year (15 Sep 2018 – 13 Jun 2019).
Funding: $35,000 per year or $70,000 in total awards.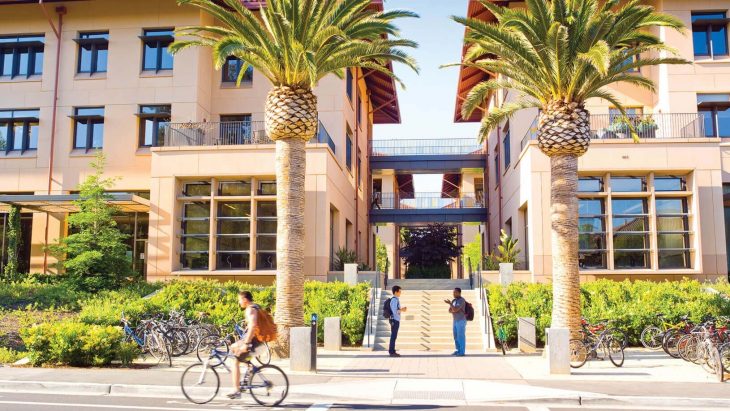 Stanford University invites students with exceptional drive and strong business acumen to apply to their top-ranked MBA program. To be eligible, candidates must have received a U.S. bachelor's degree or equivalent. In the application, each student must provide information about all undergraduate and graduate institutions attended, as well as academic degrees pursued. Candidates must also supply their grade point averages, transcript of courses, and language proficiency evidence.
No particular past curriculum of study is required. Grade point averages are evaluated based on the scale used by the candidate's' institution, but no minimum GPA is required for admission. Electronic transcripts must be supplied from each university attended for at least one full academic year. High school transcripts are not required. While no particular classes are required, calculus and statistics can significantly strengthen a candidacy. An application fee of $275 is also required, but this fee is waived for active-duty U.S. military service members or veterans.
GMAT and GRE test scores are required, but no test is preferred over the other. The LSAT or MCAT may not be used in place of the GMAT or GRE. Tests must be taken after September 2013 for Round 1 admission, after January 10 2014 for Round 2 admission, and after April 3 2014 for Round 3 admission. Scores can be sent directly from Pearson VUE or ETS. Report only the scores from the test that you wish for the admissions committee to consider, as they will not average test scores. Individuals who do not speak English as a native language must submit the TOEFL, IELTS, or PTE. Scores are valid for two years.
Work experience is not required, but this information can be included on the application to help strengthen an individual's candidacy. However, positions held prior to university attendance should not be considered. Full-time and part-time work experiences, as well as internships, may be submitted. A one-page resume should be supplied, as well as letters of reference from a direct supervisor or someone familiar with your work. Personal information, like activities, interests, awards, and honors should also be included.
Applications are evaluated based on several qualifications, including intellectual ability, leadership potential (as demonstrated by past experiences, both academic and not), and personal characteristics and achievements. No single factor determines the best fit for each student, and each application is considered thoroughly and holistically. Each candidate must also write two personal essays addressing what matters most to you and why, and why Stanford is the best fit for MBA study. Both essays combined must not exceed 1,150 words.
The Stanford admissions team considers each candidate's attitude toward learning as well as intellectual aptitude. They look at every applicant's passions, interests, and initiative, as well as whether those passions are relevant to the candidate's chosen career. The team also evaluates personal character, integrity, and their overall social responsibility. There is no "ideal" or "typical" Stanford MBA student, so the community is inclusive of a diverse student body with incomparable skills.
That being said, the admissions committee does operate with several basic assumptions about each candidate. First, they recognize that all students don't fit into a certain mold, but that past actions are the best predictor of future behavior. Furthermore, the process of developing a talent is just as important as the talent itself, and while admitted candidates tend to have stronger analytical, creative, and management skills, there is no professional background required for the MBA program.
Applications should be submitted in any of three different application rounds. Each candidate may apply for only one application round. First or second round applicants receive several benefits, including the ability to receive need-based financial aid, time to complete quantitative or English language coursework prior to starting classes, access to on-campus housing lottery systems, time to complete a visa application, and the opportunity to attend Admit Weekend.
For Round 1 admission, all application materials must be received by September 18, 2018. Notifications will be sent on December 13, with responses and deposits due by early February 2019. For Round 2 admission, all applications must be sent by January 10, 2019, with notifications sent on March 28. Replies and deposits must be sent by early May 2019. Finally, for Round 3 admission, applications must be sent by April 3, 2019, with decisions sent on May 16 and responses due by late May 2019.
Candidates who are offered admission are expected to enroll in the MBA or dual/joint-degree program in the year for which they are admitted. The only exception to this is if you meet the eligibility criteria for deferred enrollment; otherwise, deferment is not allowed and candidates will be expected to reapply.
To learn more and apply, click here.
---
Subscribe to our mailing list
In order to receive the latest updates of study and scholarship opportunities worldwide.
---
---