Institution: Harrow School
Country: United Kingdom
City (Metropolitan Area): London
Applicant Eligible Countries: Worldwide
Study Levels: High School / Secondary School, Sixth Form
Price: £12,850 per term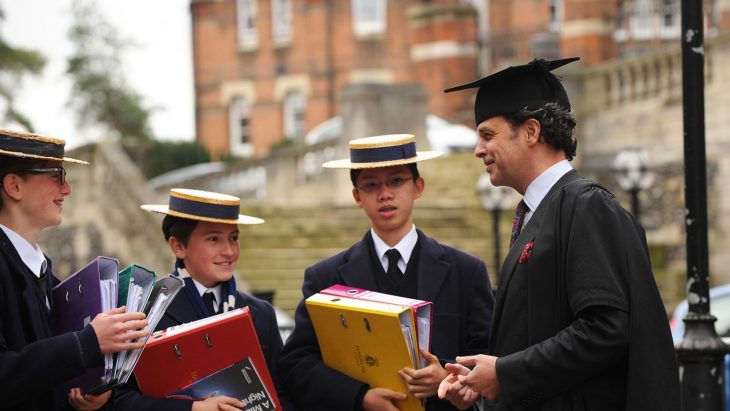 Each year, the prestigious Harrow School admits roughly 160 young men into Year 9, and up to 20 boys into Year 12. Year 12 is also known as the Sixth Form, and generally includes individuals who are around the age of 16.
The admissions team at the Harrow School seeks individuals who will be successful in a full-boarding environment, making good use of all of the opportunities therein. They are expected to make a contribution to life both inside and outside of the classroom, and to excel in their academic studies, sports, or arts. All applicants should also have a positive behavioral record and the ability to show good leadership skills.
Applicants should submit an application form, indicating his academic achievements and proposed A-level subjects. Supplementary materials should also be submitted, including a curriculum vitae and a one-page handwritten letter to the Headmaster explaining the candidate's reasoning for wanting to attend the school. Each applicant should also submit a recent school report, a copy of the ID page on the applicant's passport, and the £325 registration fee.
Applicants applying for a scholarship should also submit a Scholarship and Bursary Application Form. All candidates should submit a list of three subjects in which they would like to be tested. By November, students who have passed the first round of application review will be invited to take those assessments. If these assessments are successful, interviews and seminars will also be scheduled to further solidify the candidates' place in the following year's class.
Generally, applications are due by October of the year before the candidate wishes to enroll. Some late applications are accepted in January. Assessments are held in November, with enrollment decisions made shortly thereafter.
For the upcoming school year, tuition and fees should be around £12,850 per term. This is inclusive of all tuition, board, textbooks, laundry, and stationary. This must be paid in advance of the first day of term. First bills will be sent out in July, at which time an Acceptance Fee is also required.
To learn more and apply, click here.
---
Subscribe to our mailing list
In order to receive the latest updates of study and scholarship opportunities worldwide.
---
---