Institution: ICFJ - International Center for Journalists
Country: United States
City (Metropolitan Area): Washington -- DC
Applicant Eligible Countries: Argentina, Brazil, Colombia, Costa Rica, Ecuador, El Salvador, Guatemala, Honduras, Mexico, Nicaragua, Panama, Peru
Type of Opportunity: Fellowships
Subjects: Journalizm
Start Date: April 23, 2018
End Date: June 2, 2018
Duration: 6 weeks + 4 weeks
Application Deadline: November 11, 2017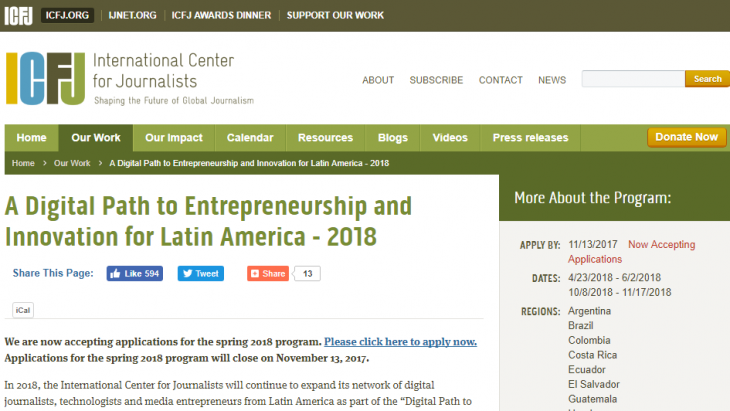 The International Center for Journalists brings thirty-six professional fellows together from twelve countries. These nations include Argentina, Brazil, Colombia, Costa Rica, Ecuador, El Salvador, Guatemala, Honduras, Mexico, Nicaragua, Panama and Peru. The center is currently accepting applications for the spring 2018 program. Apply quick–applications close on November 13, 2017.
In addition to the initial fellowship, the center will also send twelve additional U.S. hosts to Latin America for two-week study tours. This exchange will allow participants to innovate and network with digital journalists, technologists, and media entrepreneurs. While working intricately with the Public Affairs Section of each country's embassy, participants will learn about professional communications and receive mentorship in the field.
Each fellow will participate in a six-week U.S. program, along with four full weeks of professional attachments at the host institutions. Each participant will be matched with an American host across the country at digital communications firms and related industries. Before doing this, participants will engage in an in-depth orientation in Washington, D.C., at ICFJ's official headquarters. During the final week of the program, all participants will also engage in the Professional Fellows Congress in Washington, D.C., where they will be connected with other fellows from around the globe.
This program highlights the United States' diversity and culture, allowing fellows to become immersed in their host communities while developing leadership and entrepreneurial skills.
In addition, participants will spend four weeks with a host media organization, in which they will learn about all the digital realm of the United States has to offer. Previous fellows have been placed with leading organizations such as the Los Angeles Times, Mother Jones, and the Huffington Post.
The overall goal of this program is for fellows to create media business models that utilize powerful digital tools and allow them to generate sustainable revenue. Students will be selected based on professional qualifications, relevant experience, leadership potential, and commitment to developing mutual understanding between the people of their countries. All participants must be fluent in English, and between the ages of 25 to 40. All emerging young professionals are welcome to apply. Questions about the program or application process may be directed to cbalfour@icfj.org.
To learn more and apply, click here.
---
Subscribe to our mailing list
In order to receive the latest updates of study and scholarship opportunities worldwide.
---
---